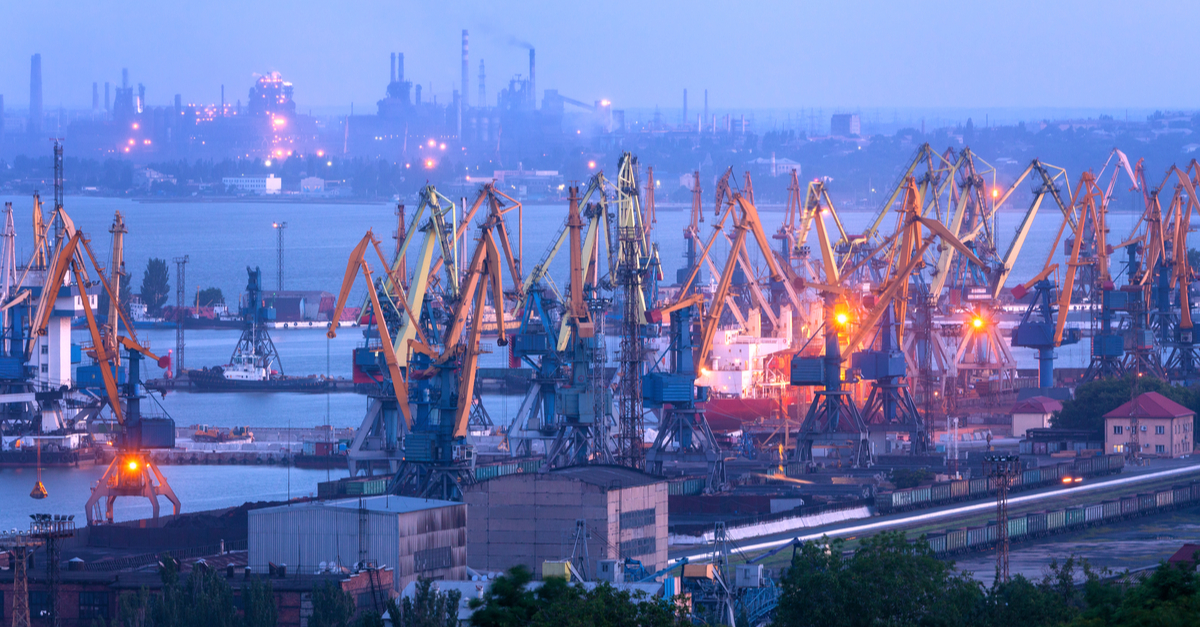 (c) shutterstock.com
Main losses connected with damages of steel plants, which produced 40% of crude steel in Ukraine
Before the war Mariupol was the large industrial city, one of the centers of Ukrainian steel industry. In 2021, Mariupol took the 6th place in the ranking of Ukrainian cities in terms of quality of life, overtaking Kyiv, Odessa, and Kharkiv. 431 thousand people lived in the city.
Now about 100 thousand people remain in Mariupol. First of all, the war resulted in a large number of civilian casualties in Mariupol. The exact number of deaths cannot be estimated. This is a great tragedy for Ukraine.
In addition, the Russian offensive on Mariupol led to economic losses. According to GMK Center estimations, Mariupol generated about 2% of Ukrainian GDP in 2020. It is direct impact related to production of goods and services in the city. Enterprises of the city employed 91.5 thousand people (1.4% of total employed persons in Ukraine). 24.7 thousand people worked at two steel plants (Azovstal and Ilyich Iron and Steel Works), which were controlled by Metinvest Holding.
Mariupol is also seaport, which handled 5.4% of total cargo handled in Ukrainian seaports in 2021. 77.9% of handled cargo in Mariupol was ferrous metals. In particular, in 2021, 556 thousand tons of pig iron and 1.5 million tons of steel rolled products were shipped from the port of Mariupol.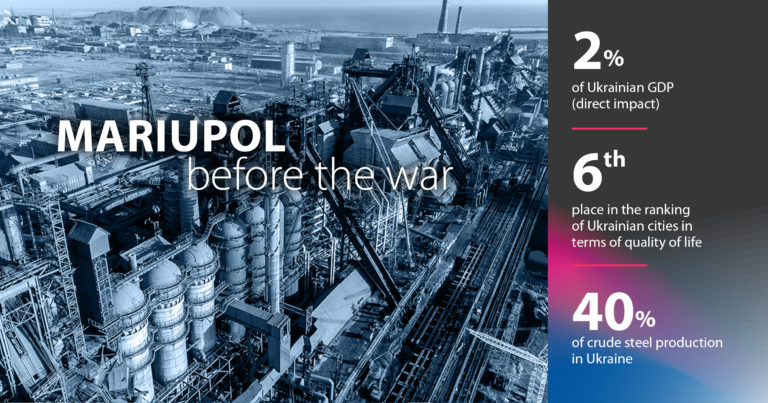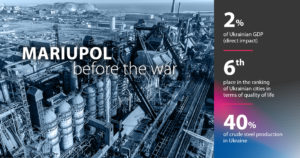 Azovstal and Ilyich Iron and Steel Works were significantly damaged during hostilities. The scale of destruction cannot be accurately estimated until the end of the war. Two Mariupol steel plants produced 40% of crude steel Ukraine. Due to the destruction of the Mariupol steel plants, Ukraine will lose 40% of pig iron exports, 100% of slab exports, 100% of plate exports, 30% of other sheet products export (HRC, CRC, HGDC). In 2021 the share of Ukraine on EU slab market was 34%. These volumes are difficult to replace with supplies from other sources in the short term.
During 2016-2020 Metinvest Holding invested almost $1.5 bln in Azovstal and Ilyich Iron and Steel Works. Ilyich Iron and Steel Works constructed new continuous casting machine (capacity – 2.5 mln tons of slabs) and carried out the reconstruction of the hot strip mill, which improved HRC quality and expand the range of products. Azovstal constructed pulverized coal injection facilities at blast furnaces and carried out major overhaul of blast furnace No. 3, which increased hot metal production capacity by 0.5-0.8 mln tons per year.
In 2021-2022 Mariupol steel plants have implemented such investment projects connected with construction of air separation units, sinter plant reconstruction, reconstruction of gas cleaning facilities at blast furnaces and basic oxygen furnaces. Ilyich Iron and Steel Works has launched the project to build a new cold-rolled, galvanized and color-coated coil production facility. The total investment in this project was estimated at $1 billion.
Before the war, Mariupol steel plants were actively developing, investing in compliance with environmental standards and manufacture of new steel products. Russian military forces destroyed the city, but they did not destroy the prospects of Mariupol steel plants. According to opinion of Metinvest CEO Yuriy Ryzhenkov, the timing for the restoration of Mariupol steel plants can be estimated based on the experience of resuming their work after the Second World War. Then the first steel was smelted after about 2 years after the liberation of the city.
Restoration of the steel plants is possible only if control over Mariupol is returned to Ukraine. The plants will not be able to operate in the occupied territory. For resuming their work, it will be necessary to attract foreign engineering companies. Foreign qualified specialists will not go to the territory occupied by Russia since sanctions have already been imposed against Russia due to the invasion of Ukraine.
Metinvest Polytechnic is another ambitious project of Metinvest Holding. Metinvest Polytechnic is a private technical university that Меtinvest Holding started to build in Mariupol in July 2021. It was planned that in September 2022 the university will begin teaching students. Metinvest Polytechnic is the first representative of a new model of education, in which studying programs are designed based on the real needs of enterprises. The project Is alive, but peace is needed for its further implementation.
---
---