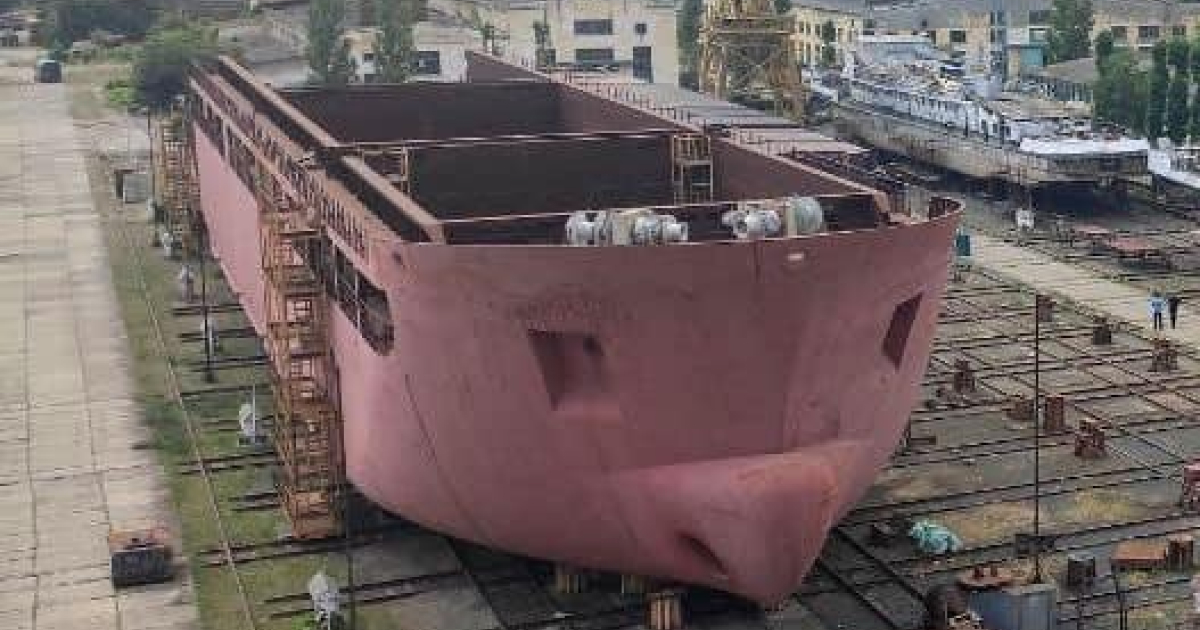 (c) facebook.com/101650835955311
The hull of the unfinished ship occupies almost 30% of the slipway of the Kiliya plant
Ukrainian Danube Shipping Company (UDP) allowed the Kiliya Shipbuilding and ship repair plant to use 1 thousand tons of steel from the unfinished hull of the vessel Captain Stolbovsky, which has been on the enterprise's slipway for 15 years, for the repair of ships of the shipping company's fleet. The acting CEO of UDP Dmytro Moskalenko informs about it on his Facebook page.
"For more than a decade and a half, the unfinished hulls of two ships have been rusting on the slipway of the Kiliya plant, one of which is called Captain Stolbovsky. These vessels were supposed to be built in the early 2000s, but in 2006 state funding stopped. In addition, the completion of the ships required the modernization of the plant and the dredging of the Danube," he said.
The unfinished hull of the ship occupies 30% of the total area of ​​the horizontal platform of the ship's slipway and interferes the normal operation of the plant. Therefore, in order to put ships with a large amount of hull work for repair, instead of a one-time lifting-lowering operation, it was necessary to perform it twice.
"The only adequate way is to dismantle the hulls and use the steel to repair the fleet, which works, solves strategically important tasks for the country and brings profit every day. In June, thanks to the support of the Ministry of Infrastructure, the Cabinet of Ministers gave permission for the use of hull elements for priority and urgent measures to repair the shipping company's fleet. We are waiting for a decision on the hulls," Dmytro Moskalenko added.
Obtaining about 1,000 tons of steel will make it possible to strengthen the repair program of the shipping company. And the freed slip will give the opportunity to increase the number of repairs.
As GMK Center reported earlier, the UDP has increased the carrying capacity of the fleet by 3 times since the beginning of the war. As part of the fleet repair program, more than 150 fleet units were repaired in 6 months and 35 barges, which had been idle for a long time, were put into operation.
---
---