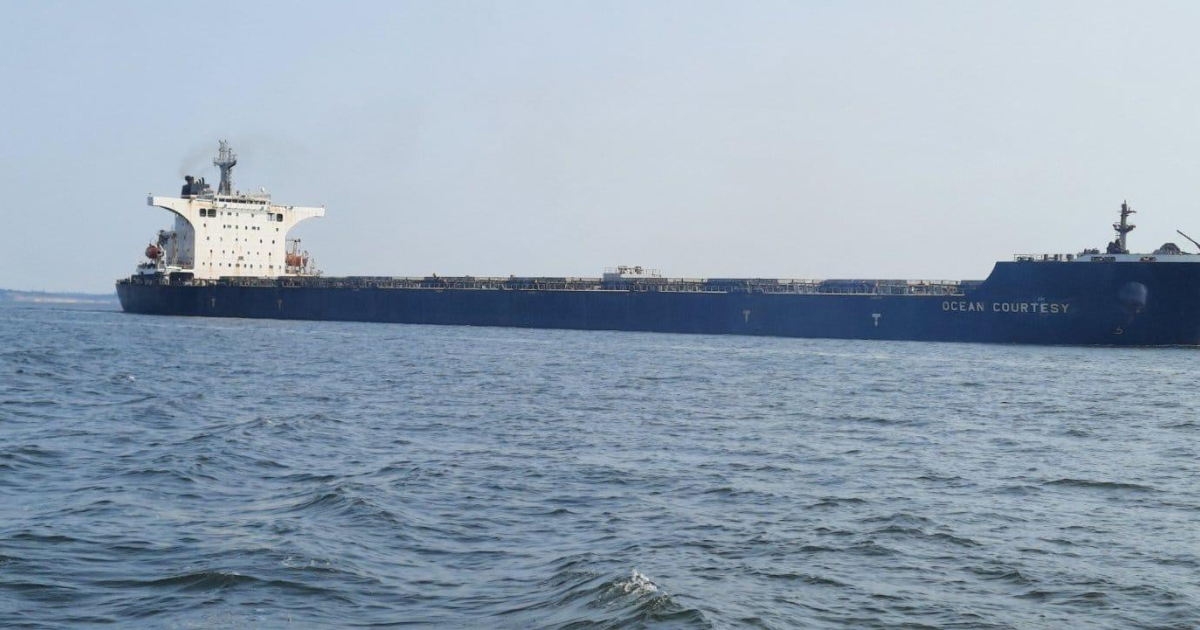 Both vessels have been in the port since the beginning of the Russian aggression against Ukraine
Two ships blocked due to the war left the Pivdenny port. Bulk carriers ANNA-THERESA (under the flag of Liberia) and OCEAN COURTESY (under the flag of the Marshall Islands) carry 56,000 tons of pig iron and 172,000 tons of iron ore concentrate on board. This is stated in press release Ministry of Reconstruction of Ukraine.
Vessels go through the temporary corridor from the Pivdenny port and move along the established route in the direction of the Bosphorus.
«Both bulkers are operated by a Singapore shipping company and were in the Port of Pivdenny before the full-scale invasion. Bulk carrier ANNA-THERESA was in port from February 22, 2022, and OCEAN COURTESY – from February 16, 2022,» the message says.
We will remind that the container ship JOSEPH SCHULTE became the first vessel that left Ukrainian seaports after the withdrawal of the Russian Federation from the «grain agreement». He left the port of Odesa on August 16. The ship was carrying more than 30,000 tons of cargo (2,114 containers), including food. The Hong Kong-flagged container ship has been in the port of Odesa since February 23, 2022 – a day before the start of Russia's full-scale invasion of Ukraine.
For such cases, Ukraine created a temporary corridor for the evacuation of ships from the Ukrainian ports of Chornomorsk, Odesa and Pivdenny, which were there before the start of the full-scale invasion of Russia. Since August 15, 4 ships have already used the temporary corridor. The container ship JOSEPH SCHULTE and the bulk carrier PRIMUS were the first to pass this way on August 16 and 27.
As previously reported by GMK Center, Russia's exit from the «grain agreement» gives Ukraine an opportunity fully unlock Black Sea seaports. The foreign exchange earnings for the country with the full unblocking of the ports will amount to $20 billion per year, tax revenues – more than $5 billion. Therefore, this issue should not only be dealt with by the Ministry of Infrastructure, all departments should join, in particular, the Ministry of Economy and the Ministry of Foreign Affairs at all possible levels. In addition, it is necessary to involve other countries in the negotiation process, in particular, Turkey and Romania.
In general, according to research GMK Center, the amount of losses from the blockade of sea ports reaches $420 million per month. Every month, Ukraine cannot produce and export 1.3 million tons of iron ore, 151,000 tons of pig iron, 192,000 tons of semi-finished products, and 218,000 tons of finished metal products.
---
---