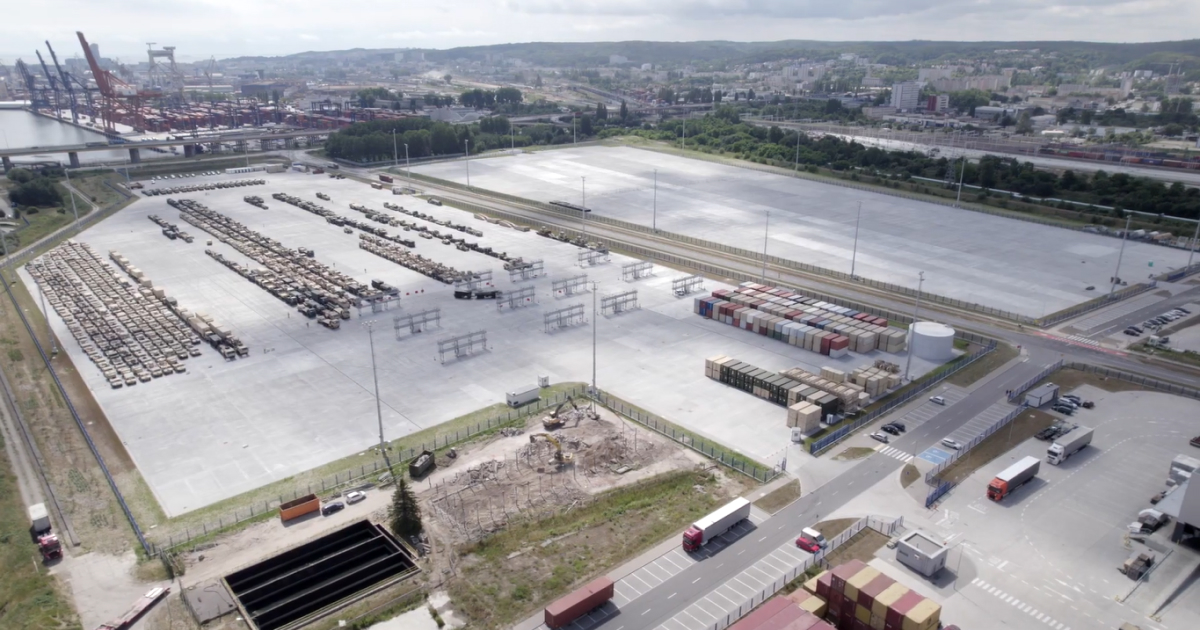 (с) port.gdynia.pl
Port's administration plans to develop intermodal supply chains
A consortium of NDI companies, commissioned by the Port of Gdynia, has completed the construction of two concrete-covered storage sites with a total area of ​​almost 18 hectares. It is said in the message on the port site.
The contractor used 80.5 thousand square meters for the construction of storage areas of concrete, and the length of the completed expansion joints was almost 70 km.
"Almost 18 hectares of sites in the port of Gdynia are ready for use. The demand for them was very high, so we are glad that we can now start operating them," said Jacek Sadaj, President of the Port of Gdynia.
The administration reports that a concrete plant was built on the site for the construction of a warehouse. Its productivity amounted to 1 thousand cubic meters mixture per day.
"The new areas will provide the Port of Gdynia with the opportunity to develop intermodal supply chains. This is especially important in the context of the role of Gdynia as a city of the trans-European transport system," the message concludes.
Recently another Polish port, Szczecin-Swinoujscie, as part of a program to improve access to the port of Szczecin began dredging of the Debica Canal. After the expansion of the canal, the port workers intend to start building a new Norwegian pier and modernizing the existing Czech and Slovak piers.
According to the results of January-June 2022, Ukrainian iron&steel companies reduced export of ore by 24.2% compared to the same period in 2021, to 17.01 million tons. Ukrzaliznytsia for this period transported for export 15.7 million tons of iron ore, reducing the figure by 29.3%.
On July 22 Ukraine, Russia, Turkey and the UN agreed on the export of grain from seaports. GMK Center analysts believe that the signing of the agreement will help relieve border crossings and create conditions for the gradual resumption of the work of steel enterprises.
---
---