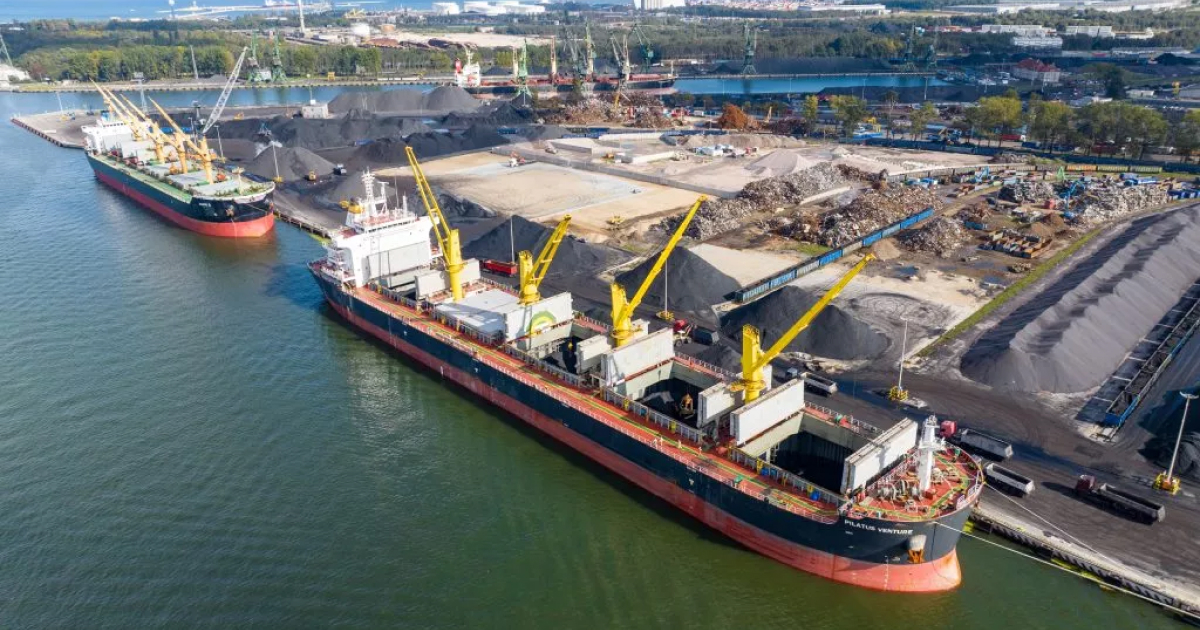 Port of Gdansk
Transshipment of other dry bulk cargoes, including iron ore, decreased by 20% year-on-year
In 2022, the Polish sea port of Gdansk increased cargo transshipment by 28.2% compared to 2021 – up to 68.2 million tons. This is evidenced by data published on the port's website.
In 2022, the Port of Gdańsk reduced transshipment of other dry bulk cargoes, including iron ore, by 20% compared to 2021 – to 3.6 million tons. Coal processing for the year increased by 2.75 times y/y – up to 13.2 million tons, oil – by 34.9% y/y, up to 25.5 million tons, grain – by 18.7%, up to 1.9 million tons.
Container processing in the Polish port for 2022 decreased by 2.2% compared to the previous year – to 2.07 thousand TEU.
Over the past 6 years, cargo transshipment at the port of Gdansk has increased by 83%. The result of 2022 is the absolute best indicator in the company's history.
According to the Deputy State Secretary of the Poland's Ministry of Infrastructure Marek Grubarchik, in 2022, the country's ports handled 133 million tons of cargo, which is 18% more than in 2021.
"The embargo on Russian goods showed how important seaports are for the security of the state. I am convinced that the success of our ports is influenced by the investments implemented in recent years, which contributed to the development of this sector and the increase of transshipment capacities," he said.

"The port of Gdańsk's transshipment results were influenced by investments, especially in the Inner Port, where approximately 5 km of universal berths were modernized, which are used for current transshipments and directly translate into the ability to handle additional cargo volume. It is the example of the Inner Port that shows how huge the effect of investment in port infrastructure and superstructure is," comments the president of the Port of Gdańsk Lukas Greinke.
As GMK Center reported earlier, in the summer of 2022, the port of Gdansk completed one of the largest investment projects «Modernization of the fairway, expansion of berths and improvement of shipping conditions in the Inner Port» for more than PLN 595 million ($133.7 million as of June 29, 2022). The project is 85% financed by the European Union through the CEF instrument.
Also, in 2021, the port of Gdansk processed 53.2 million tons of cargo, which is 11% more than in 2020.
---
---