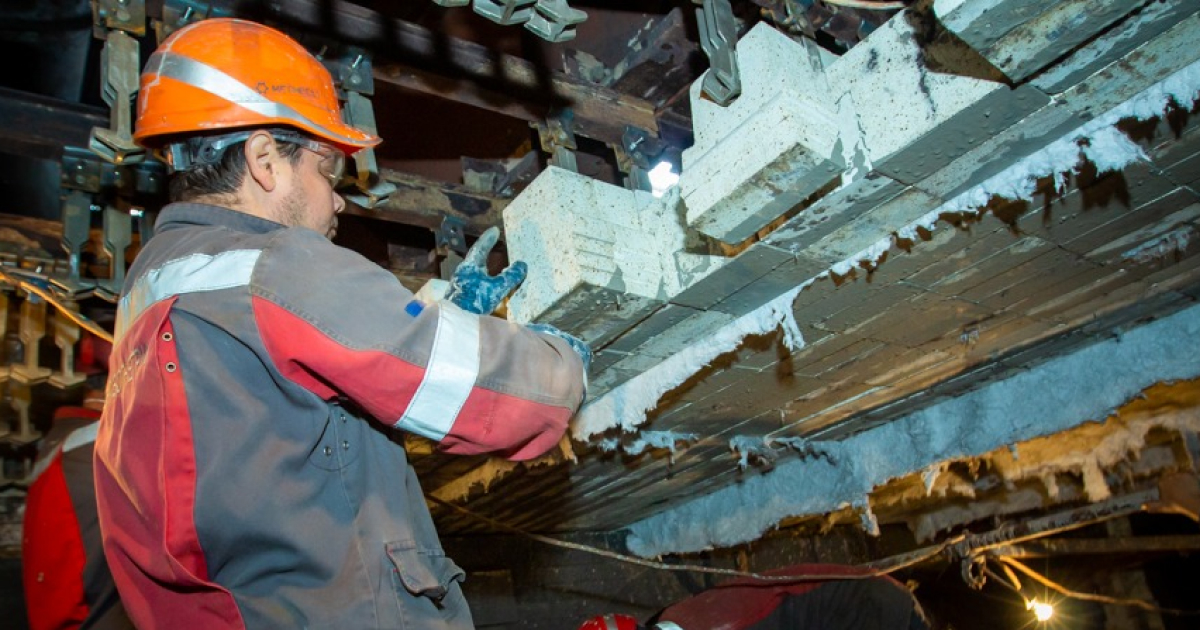 (c) metinvest.media
The plant and Zaporizhvognetryv's specialists restore the lining of the mining unit
The Northern Mining and Processing Plant (Northern GOK) allocated UAH 6 million for the second stage of the LURGI 552A roasting machine repair in pellet production shop №2. Metinvest Kryvyi Rih reports about it on its Facebook page.
"The second stage of the roasting machine repair has started in the pellet production workshop №2. After the restoration of the mechanical equipment at LURGI 552A, lining works were started," the message says.
The plant and Zaporizhvognetryv's specialists restore the lining of the mining unit in the roasting and cooling zones.
To repair the mine, European high-quality and plant's materials that can withstand temperatures up to 1300 °C were chosen. Masonry is made using andalusite alumina. The same mineral was chosen for bricks in the roasting zone.
"According to specialists' calculations, the new building material will more reliably protect steel structures from the high combustion temperatures of biofuel, which is planned to replace gas in the future. In general, about 80 tons of bricks and 30 tons of refractory mixture will be spent for the repair of the roasting machine's mine," the plant said.
After the resumption of production, the LURGI 552A will be able to produce 500 tons of high-quality pellets per hour without excessive energy consumption.
As GMK Center reported earlier, Northern GOK carried out a quarterly repair of the LURGI 552A roasting machine in the pellet production shop №2 for UAH 14 million. Now the second stage of works on the unit's restoration is being carried out.
Northern GOK – one of the largest mining and processing plant in Europe. It is part of the Metinvest group. In 2021, the plant increased production of pellets by 20.2% compared to 2020 – up to 6.35 million tons. The output of iron ore for the year increased by 5.2% – up to 13.4 million tons.
---
---