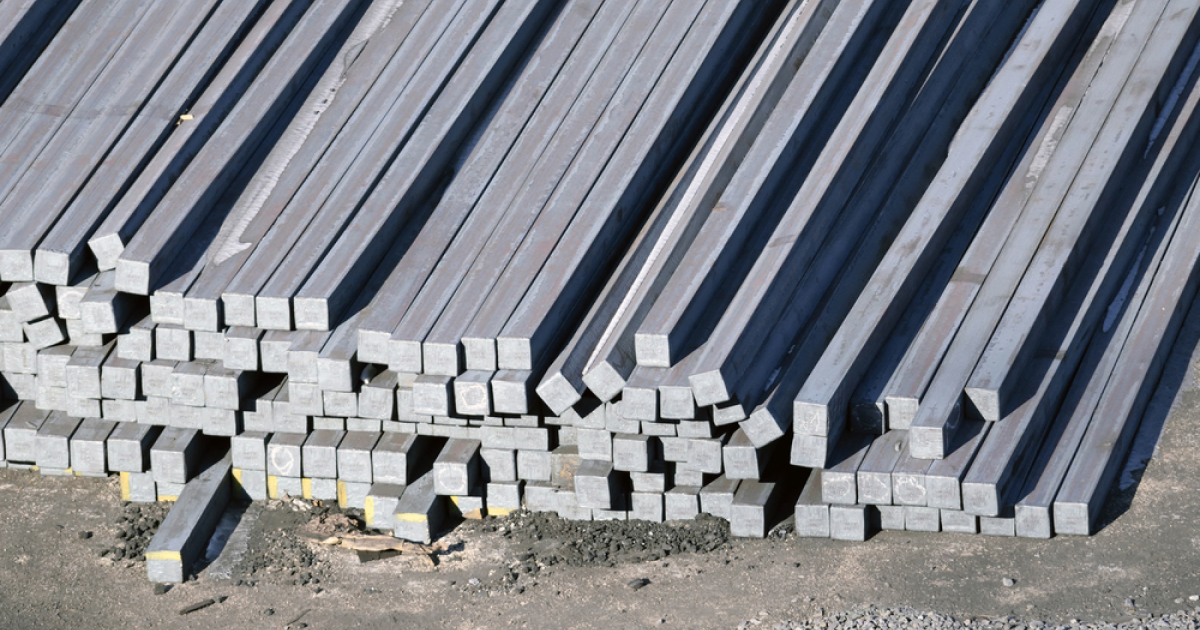 Semi-finished products
The main share of imports falls on semi-finished products – 72.7% of the total supply
In April 2023, the European Union increased imports of iron and steel complex products from Russia by 1.5% compared to the previous month – up to 486.74 thousand tons. Compared to April 2022, the EU reduced imports of such products  by 30.8%. This is evidenced by Eurostat's data.
The cost of importing Russian products by European consumers in April amounted to €262.6 million, which is 15.9% more than in March 2023 and 34.5% less than in April 2022.
The main share of imports falls on semi-finished products – 72.7% of the total supply. Deliveries of such products from Russia to the European Union rose by 16.9% m/m in April, but decreased by 6.1% y/y – to 353.83 thousand tons. Most of the steel semi-finished products of Russian production are sent to Belgium – 176.2 thousand tons, and to Italy – 104 thousand tons.
Iron ore deliveries from Russia to the EU decreased by 32.7% m/m in April and 37.1% y/y – to 82.34 thousand tons. Imports of pig iron amounted to 48.9 thousand tons, which is 2.3% less m/m and 70.1% y/y, ferroalloys – 1.41 thousand tons (-64.4% m/m; -94.1% y/y), scrap metal – 0.26 thousand. t (-9.3% m/m; -96.8% y/y).
The main consumer of iron ore in April was the Netherlands – 74.6 thousand tons (+3% y/y). Italy imported 40.7 thousand tons of pig iron, which is 72% less y/y. Poland consumed 0.6 thousand tons of ferroalloys from Russia (-36 times y/y), and Estonia 0.25 thousand tons of scrap (+93.1% y/y).
In January-April 2023, the EU reduced imports of steel raw materials from Russia by 53.8% compared to the same period in 2022 – to 1.85 million tons. Import costs decreased by 49% y/y – to €924.7 million.
Imports of semi-finished products decreased by 32% y/y – to 1.19 million tons, iron ore – by 82.6% y/y, to 280.3 thousand tons, pig iron – by 25.1% y/y, to 351.2 thousand tons , ferroalloys – by 84.6% y/y, to 15.1 thousand tons, and scrap – by 86.9% y/y, to 8.4 thousand tons.
Despite the sanctions imposed against Russia, the mining and steel complex of the Russian Federation continues to receive significant profits from the export of products to the European Union. Although the figures have decreased significantly compared to 2022, in particular, last year exports amounted to 7.92 million tons for €3.87 billion, deliveries still remain at a high level.
Despite the sanctions, Russia still has loopholes that allow it to export steel to the EU countries. This CEO of Metinvest Group Yuriy Ryzhenkov emphasized it in an interview with the Italian edition of Corriere della Sera. On the one hand, the steel industry of the Russian Federation found itself in a difficult situation in terms of market share. In particular, in October 2022, the EU imposed the eighth package of sanctions against Russia, including a ban on the supply of steel products to the EU. However, it provides for a two-year delay for Russian manufacturers to supply semi-finished products to the EU.
Yuri Ryzhenkov also noted that European importers who buy Russian semi-finished products at low prices have an advantage over other producers in the European Union who refuse products from the Russian Federation.
11 months after the start of a full-scale war in Ukraine, according to GMK Center's research, a number of sanctions have been imposed against the Russian steel industry, complicating its export. However, approaches to restrictions on the part of large economies differ. The US sanctions policy, for example, provides for minimal bans, but American buyers avoid products of Russian origin. The European Union left the possibility of trade in raw materials from the Russian Federation and postponed restrictions on semi-finished products. The UK has taken the path of imposing import duties.
Recently, within 11th package of sanctions against the Russian Federation, the EU have strengthened restrictions on the import of steel goods to the bloc. The new requirements will come into effect on September 30, 2023.
---
---