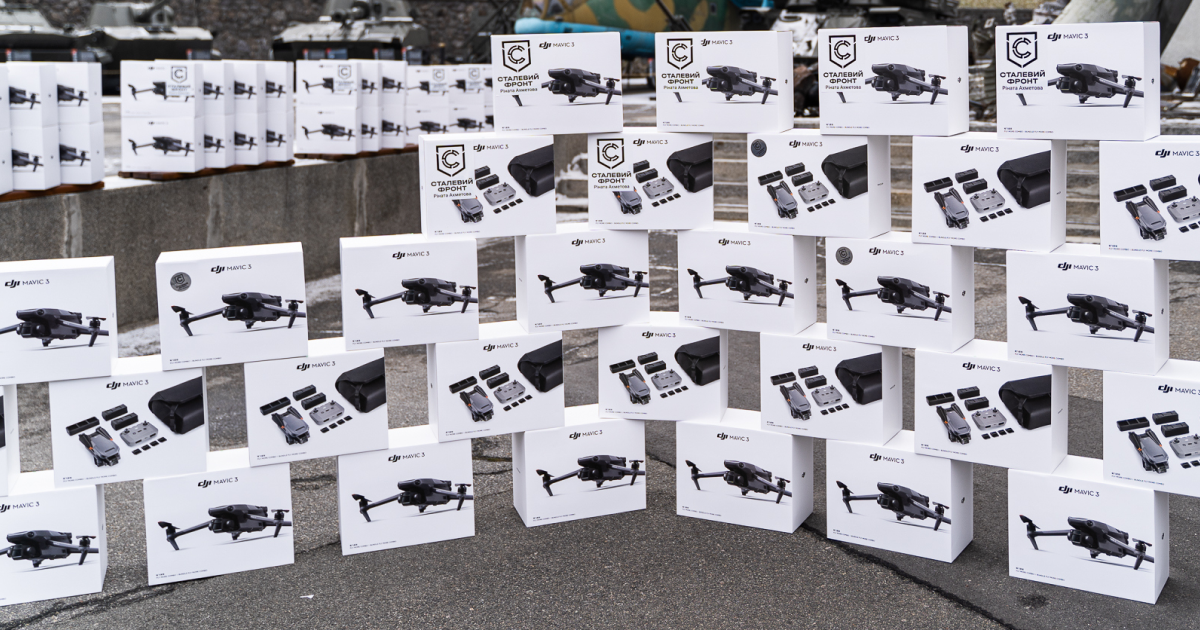 Drones from Metinvest
100 DJI Mavic 3 drones will be delivered to the Ground Forces of the Armed Forces of Ukraine
Since the beginning of the war in Ukraine, within the framework of Rinat Akhmetov's «Steel Front» military initiative, Metinvest Group has purchased more than 1,100 drones for the defenders. It is stated in the Metinvest.Media's message.
The company recently handed over 100 DJI Mavic 3 drones to the Armed Forces of Ukraine (AFU). The drones will be sent to the eastern and southern directions of the front, in particular to the hottest spots – Bakhmut, Avdiivka, and Vugledar. Part of the UAV will go to the defense forces protecting the capital of Ukraine.
The total cost of this batch of equipment from Metinvest is more than UAH 10 million. Transferring such a large number of drones to the Ground Forces at once is a record for the company. Metinvest did not just allocate funds, but also took on the issues of organization, logistics, search and supply of scarce devices.
DJI Mavic 3 Fly More Combo is the most needed and popular model of drones in the ranks of the Armed Forces, which help detect and destroy the enemy on the front lines. The UAV has the maximum configuration with an additional set of batteries, it is used for reconnaissance and fire adjustment. The advantage of this model is excellent optics and navigation.
"We understand that drones are an extremely important part of the tactics of the Armed Forces both during the defense of Ukrainian territory against the aggressor's onslaught and during counterattacks. Such UAVs as the DJI Mavic 3 are the eyes of Ukrainian soldiers, they are high-quality intelligence that saves lives," said Oleg Matvienko, head of the military security department of Metinvest Group.
According to him, at the forefront, drones are, unfortunately, expendable. Therefore, the company will continue to provide the Armed Forces with drones until victory.
Defenders who defend the Zaporizhzhia region also received a universal drone with a thermal imaging camera from Metinvest. The equipment is planned to be used on the front line from Kamianske to Gulyaipole.
As GMK Center reported earlier, during the 10 months of the war, Metinvest Group directed more than UAH 2.8 billion to strengthen the country's defense capabilities, support employees and civilians. As part of the military initiative «Steel Front» of Rinat Akhmetov, UAH 1.5 billion from the total amount was allocated to the needs of the army. The company also established a system of supplies to the front of necessary items.
---
---