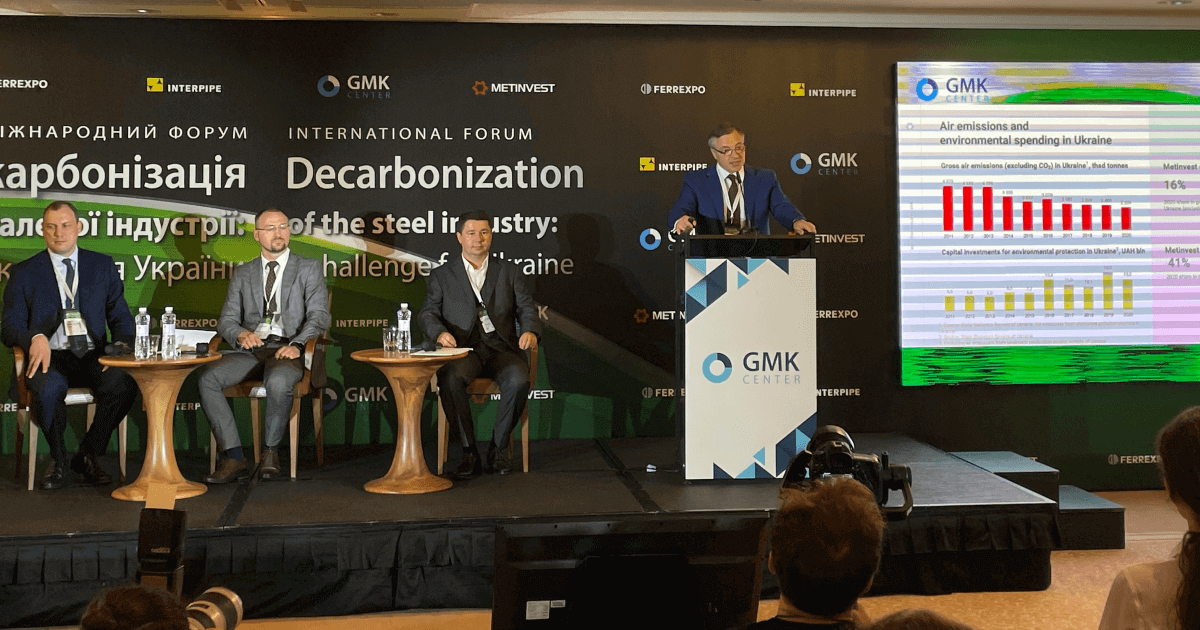 The company is already taking particular steps towards greener technologies
In 2020, the Metinvest Group commenced development of a long-term technological strategy taking into account the existing environmental challenges and aiming to integrate the world's best practices in its own production. The company believes that EAF and hydrogen-based assets are the future of steelmaking technologies.
That was stated by Yuriy Ryzhenkov, CEO of Metinvest Holding, in his speech at the international forum "Decarbonization of the steel industry: a challenge for Ukraine".
Green transition will be the key element of the strategy.
"We are exploring a possibility of building a single DRI and EAF-DRI complex. Its location is still an open question, but it will definitely be one of the cities where we have a presence," said Yuriy Ryzhenkov.
Another priority is the launch of production of DRI pellets with a high Fe content. This production segment with the annual capacity of 2.3 million tons has already been launched at the Central GOK, and in the long run this line is expected to be launched at the Northern GOK too.
According to Yuriy Ryzhenkov, there is still no clarity about all the technologies to be used by the Group, as well as about the quantitative parameters. But the main guidelines are as follows:
introduction of new production lines using advanced technologies in the next 10 years, until 2030;
significant reduction of CO2 emissions according to technological benchmarks from the world's leading producers of equipment.
In addition, Metinvest is negotiating with potential international partners, including research organizations, producers of equipment and engineering companies, to explore additional decarbonization possibilities.
"Our potential interests include, inter alia, innovative technologies for carbon-neutral steelmaking; CO2 capture, utilization and storage; industrial gas disposal, fuel production, production digitalization and related areas," summarized the top manager.
As reported earlier, in 2020 Metinvest's environmental investments grew by 32% to $204 million. Such projects at Ilyich Iron and Steel Works of Mariupol as reconstruction of sinter plants and blast furnaces No. 3–5 became the key focus areas of the company's environmental investment policy.
In the coming years, Metinvest plans to invest over $430 million in environmental projects, apart from environmental equipment maintenance costs. They will mostly focus on BF and BOF routes.
The prime partner of the forum "Decarbonization of the steel industry: a challenge for Ukraine" was Metinvest, other partners included Ferrexpo and Interpipe.
---
---