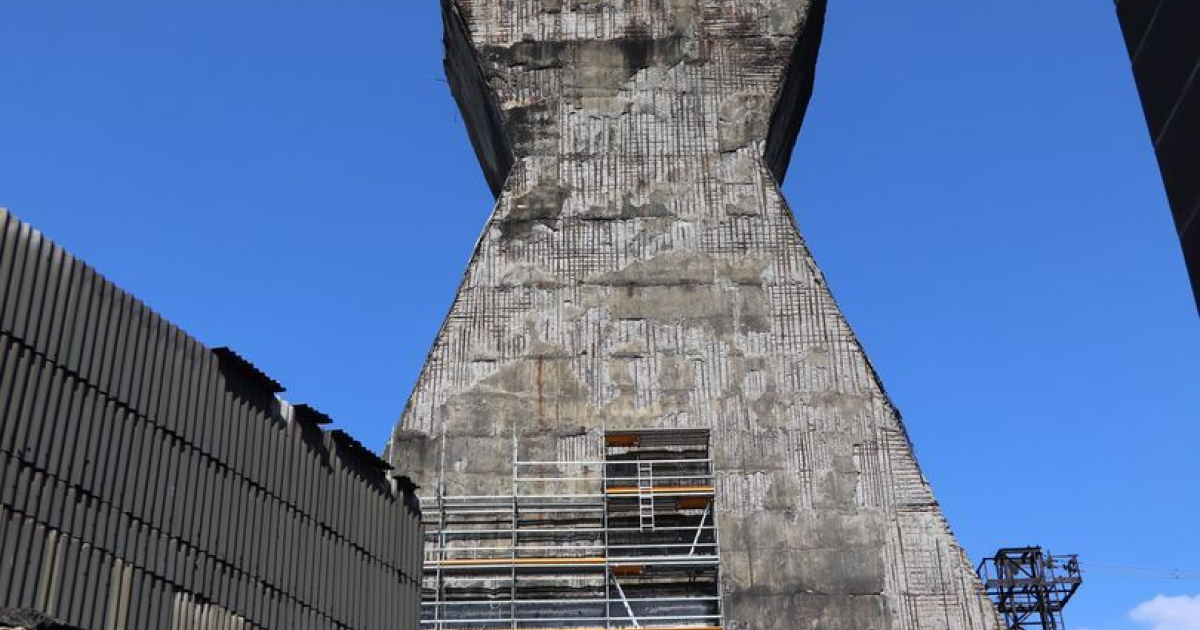 The enterprise plans to restore the technical characteristics of the building to the design values
Kametstal Iron and Steel Works began the reconstruction of the extinguishing tower with the restoration of the technical characteristics of the structure to the design values. It is stated in a message on the company's Facebook page.
The extinguishing tower was built in 1988 in the KB-1bis coke battery construction complex, its purpose is to ensure the process of wet coke quenching. During the period of long-term operation in a difficult environment, reinforced concrete structures have lost their stability, which does not guarantee the safety of personnel and the efficiency of the technological process.
The enterprise has developed a number of project solutions that involve the construction of new reinforced concrete walls with a thickness of 200 mm inside the tower. In turn, the protection of external surfaces is provided by shotcrete. With the help of 16,000 reinforcing rods, the new constructions are connected to the existing walls and form a continuous strong structure. In this way, 100% of the vertical surface of the tower with a total area of ​​more than 3,600 square meters will be protected.
A subcontractor, which already has successful experience in performing similar work at other enterprises, was chosen as the executor, the work began in June 2023.
In addition to the restoration of the building, the railway track of the fire-fighting car will be replaced, a new irrigation device and water supply collector for fire-fighting will be installed. The latter is made of rubber materials, which will increase the maintenance period to 10 years.
According to Sergiy Nikolaev, head of the technical department of capital construction facilities, the reconstruction of large industrial buildings is always associated with the risks of unforeseen issues and the adoption of additional design decisions, which did not escape this project either. However, they plan to complete the reconstruction of the KB-1bis extinguishing tower within the agreed schedule, and put the facility into operation already this year.
As GMK Center reported earlier, Kametstal implements projects regarding the reduction of fuel consumption in pig iron smelting. Since the beginning of the year, the plant's specialists have reduced the actual consumption of conventional fuel by more than 15 kg per ton. Kametstal is also improving sinter ore quality to stabilize the operation of blast furnaces and increase the quality indicators of the produced iron.
---
---