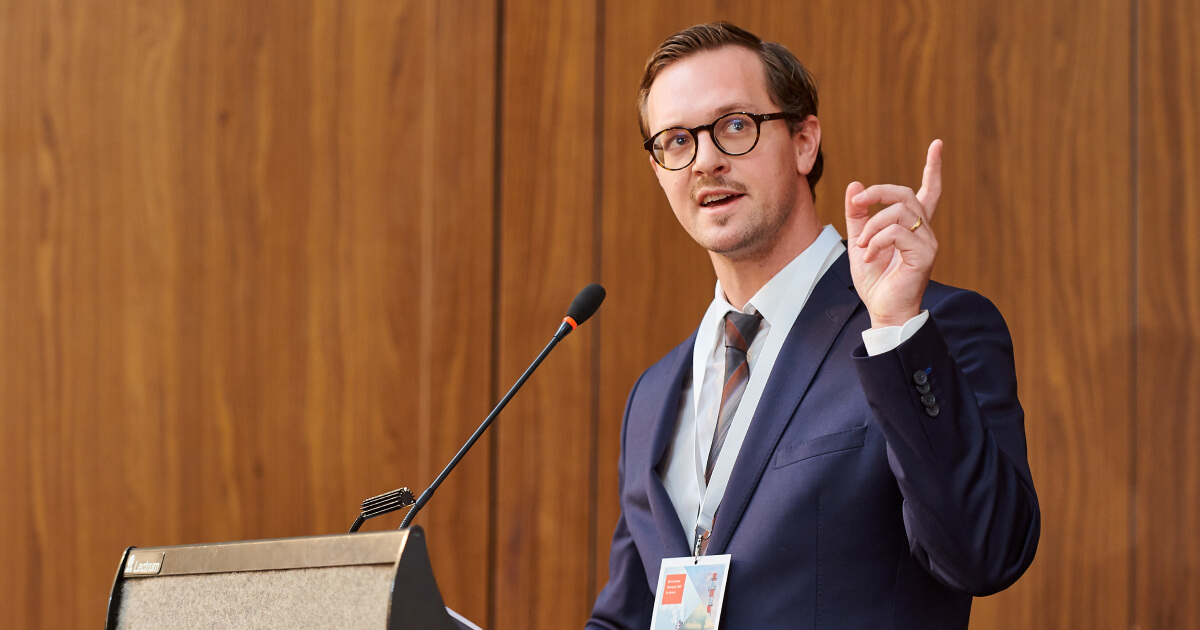 GIZ project manager in Ukraine told how Ukrainian industry will move towards fewer emissions
The Deutsche Gesellschaft für Internationale Zusammenarbeit (GIZ) GmbH, acting in Ukraine on behalf of the German Government, implements several projects for the country's sustainable economic, environmental and social development. Energy efficiency and climate change effects reducing are among the top priorities for GIZ in Ukraine.
Recently, GIZ has launched an ambitious project called «Best Available Technologies for Ukraine» in order to deploy European BATs in Ukrainian industry and, thus, reduce the industrial pollution and environmental damage.
In an interview to the GMK Center, the BAT for Ukraine project director Gabriel Sauer told what stage had been reached in the project implementation, how long it will take to finally deploy BATs in Ukraine and how the related measures will be financed.
About draft law
GIZ started the project Best Available Techniques for Ukraine in February. What have you already achieved? What stage are you at now?
–  We started the project in February, but officially the kick-off was in June. It took some time to get the right people aboard our team but nevertheless we did not fall behind schedule.
The Ministry of Environment in Germany, who is supporting GIZ, and our partner here, the Ministry for Energy and Environmental Protection of Ukraine, have so far, developed a draft law "On the prevention, reduction, and control of Industrial Pollution".
The draft is currently published online, and publicity and the industry could comment until January 4. We would like to have as many comments from everyone affected, for example all stakeholders, NGOs, industry, but also whoever else feels concerned or competent to comment.
How business and other representatives reacted to the draft law?
– They want to know more. They want to know more about what is coming up for them, and, they want to be involved. We have planned two pilots later on in the project: one for testing the integrated permitting system and another pilot for a financing scheme for investments into BAT in Ukrainian companies. They are eager to know what these pilots are and how to participate.
About BAT implementation
There are four components in BAT for Ukraine project. Now you've almost finished the first component –the development of the draft law. What's next?
– There are four fields where GIZ supports the implementation of BAT in Ukraine. But the BAT implementation from beginning to the final system will be a lot broader and it will presumably take place up until 2028. The project will be steered by the Ministry of Energy and Environmental Protection of Ukraine. GIZ will only support the first phase: to be more exact the first four years – till 2023. The upcoming tasks for us are to support the development of a data management system (DMS), to develop special trainings and to test the new system via the planned pilots.
So now you are going to implement the second component of BAT for Ukraine?
– The first work package we are supporting was the development of the draft law, which is mostly done. The Ministry has published it, but it's not passed yet. But that's very good progress. The next is the development of the DMS system. It's basically an online tool for applications, comments, issuing and publishing of integrated environmental permits. It will probably start running in 2021.
When Ukraine can read the Ukrainian translation of Best Available Techniques Reference Documents (BREFs) of the EU?
– The translation of relevant BREFs will take over a year and will be done piece by piece, sector by sector. The translation should be ensuring it is congruent with the Ukrainian legislation. It must fit the definitions, the words you use. Since we will not translate everything at once and in parallel, some documents might be available earlier, others later. All in all we are aiming at the translation of up to eight sectoral and two horizontal BREFs. But as soon as we have one translated, we will make sure that it is published in the right way. We assume the translations will be completed in 2021.
The third component is the pilot integrated permit issuing to Ukrainian companies. Which companies are going to participate? In which sectors?
– It's up to the Ministry of Environment in Germany and the Ministry for Energy and Environmental Protection of Ukraine to decide. But it is planned right now to include iron and steel production, as well as cement and mineral production industries.
Is GIZ currently looking for Ukrainian companies from these sectors?
– No. We are not at this stage yet because we are missing a data management system integrated into the open environment system of the Ministry of Energy and Environmental Protection of Ukraine. The Ministry is currently developing a common platform for all types of IT solutions. There will be a tender for an IT-partner and whoever is in the situation to provide best for the needs of the implementation, they will be supporting in the development.
That will be the basis to integrate our permitting procedures of the integrated permits into this common system. And once we have established the DMS, the Ministry's structure is in place and the resources are allocated we can think about who to partner up with, who to pilot with.
About legislation interlinkage
Will the BAT for Ukraine implementation be connected to the Greenhouse Emissions Monitoring, Reporting & Verification law" (№0875)?
– Yes, it might be, but not tightly. There's a possibility to make an interlinkage in the integrated permits with referring to the greenhouse gas emission caps that are set. So, there's not going to be a section that includes the limits on greenhouse gas emissions, this will be in a separate process, but an integrated permit might include a reference to it. Therefore, we are trying to make sure, of course, to have no contradictions concerning definitions and terminology which should be aligned in the two laws.
How do you think, when the government will approve the draft law you have already presented on transposition of the Industrial Emissions Directive (IED)?
– I hope that it will be passed in the beginning of 2020.
Will this draft law be the only one you will help to develop in Ukraine?
– Yes. We only supported the transposition of the IED into Ukrainian legislation, and there will be, of course, implications for other spheres. For example, administrative Processes, Monitoring, Reporting & Verification, secondary legislation will be affected and so forth.
Will the BAT implementation help to reduce the administrative burden on Ukrainian industry and companies?
– Yes, but it may not be obvious from the very beginning since all industrial installations have to comply with a new system in a short period of time there can be more administrative workload for the initial phase. But an Integrated Permit will not expire and includes pollutions into all medias. This will make permit issuing more efficient in the long run. Existing permits just need to be altered if Best Available Techniques or some other substantial circumstances change. Another factor is digitalization that will cover everything from application to publishing of the integrated permits or changes to those permits.
How are going to motivate Ukrainian industries to use integrated permits?
– Well, I think, for some part, this motivation should be intrinsic. If you want to be successful you should comply. This is intrinsic motivation enough of each business. If a Ukrainian producer, who is not producing in a very clean manner, wants to export goods to the European Union, the EU might impose a carbon border tax and it will not be competitive anymore in the future. The company should make investments into clean technologies and processes and therefore, this is also where it comes to the Best Available Techniques. That's one side of motivation.
The other side of motivation is, of course, that the State might be able to help in certain cases to facilitate investments since we are talking sometimes about bigger investments to comply with Best Available Techniques' emission limit values, and that is,  a good and justified reason for the state to intervene in the market. I suppose there will be a mechanism in place that helps businesses to keep financing realistic.
So, if you want to be a successful exporter in the European Union of the future, you will have to go through some modernization measures, with your installations. Therefore, it's a great opportunity now for Ukrainian businesses to comply with these standards and not to close their eyes on the developments.
About financial mechanism
The final component of BAT for Ukraine implementation is the development of financial mechanism. What exactly we are talking about?
– It's about investments into Best Available Techniques meaning redesigning processes and installations and making investments into new hardware there.
The initial idea is it to create a financing mechanism that provides facilitation, and at the same time, requires the business to also put some of their own money into that endeavor or to lend it from a bank. That's up to the business but, for sure, it won't be a 100% grant on every investment into BAT, but it is not decided yet what the percentages will be.
Will it be a national mechanism?
– Yes. That helps businesses to do necessary investments, and I know that high interest rates are a big topic for Ukraine – as businesses are not as flexible with making these big-scale investments, but that's undecided how will it look like.
At the pilot we'll trying to test a financing mechanism. There will be a financing institution. Its role is to make sure the company have external funds available. The idea is to have a partly subsidization of investments, and partly you need your own funds either from your own capital or from the capital market. But their basic role will be to administer the process.
So, first, we will have a pilot for the permit issuing — to see how it goes, is the DMS working, is everything clear for both sides, and then, as a second step, we will also try to have, a pilot for the financing mechanism to see what will be attractive for the industry, what would they need and where might be problems if they want to invest –  that's what we'll try to find out with these pilots.
Do you see some risk in the implementation of the system?
– I'm pretty sure, with each process, with each system there's inherent some risks that you don't know about beforehand, and also, in each country, it's a little bit different, so it's really hard to say what we will encounter.
But I can say now that all the risks we were aware about, we have already discussed to make sure they are controlled.
---
---