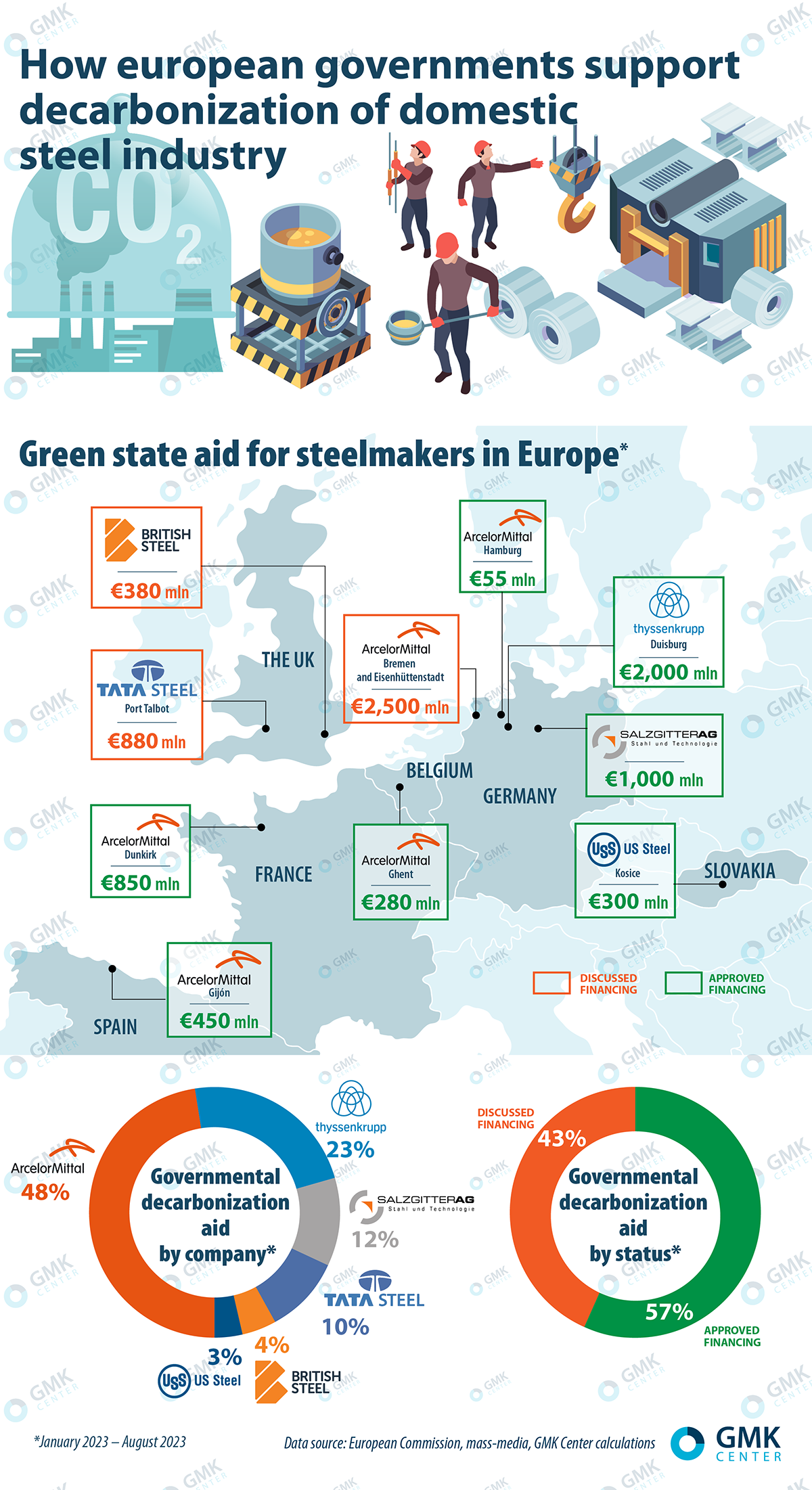 47.6% of total funds (€4.1 bln) may be allocated to ArcelorMittal plants
For 8 months 2023, several European steel companies, including ArcelorMittal, ThyssenKrupp, Salzgitter, have announced the receipt of grants or other state assistance for the implementation of their decarbonization projects. Total funds which may be allocated for these purposes have reached €8.7 bln. Allocation of €4.9 bln have been already approved, while the discussion on providing the rest of the funds is ongoing.
The main beneficiary of decarbonization support is ArcelorMittal. The company may get 48% of all state funds which have been announced for decarbonizing steel sector. Allocation of €1.6 bln to ArcelorMittal have been already approved. These funds will be used to implement decarbonization projects in Ghent, Hamburg, Dunkirk, Gijón. Possible state decarbonization support for Bremen and Eisenhüttenstadt plants is discussing.
The projects that received state support mainly aim at transition from BF-BOF to DRI-EAF route. ThyssenKrupp is different from the general trend – the company received €2 bln aid for the construction and installation of a direct reduction plant and two melting units, which will replace an existing blast furnace.
European governments plan to allocate aid in different forms: direct grants, soft loans, OPEX compensations etc. European Commission assumes that all support measures will contribute to the achievement of the EU Hydrogen Strategy, the European Green Deal targets and fast forward the green transition in line with the REPowerEU Plan.
Other European steelmakers also expect to receive state assistance for decarbonization. For example, voestalpine submitted application for public funding in June 2023, decision on it is expected in October-November. The Innovation Fund's third call for large-scale projects selected H2 Green Steel for grant preparation. But amount of funding is unknown, as this grant will be awarded in 4Q 2023.
Italy planned to receive €1 bln within the framework of the Just Transition Fund. Part of this funding was dedicated to decarbonization of Acciaierie d'Italia. But later the Italian government has asked the EU to cancel the €1 bln funding for the Acciaierie d'Italia green hydrogen project within the National Pandemic Recovery Plan. Now it is not clear how much funding Acciaierie d'Italia can get for decarbonization projects. So, all companies with unknown amounts of state funding for decarbonization purposes were not included in the infographic.
---
---