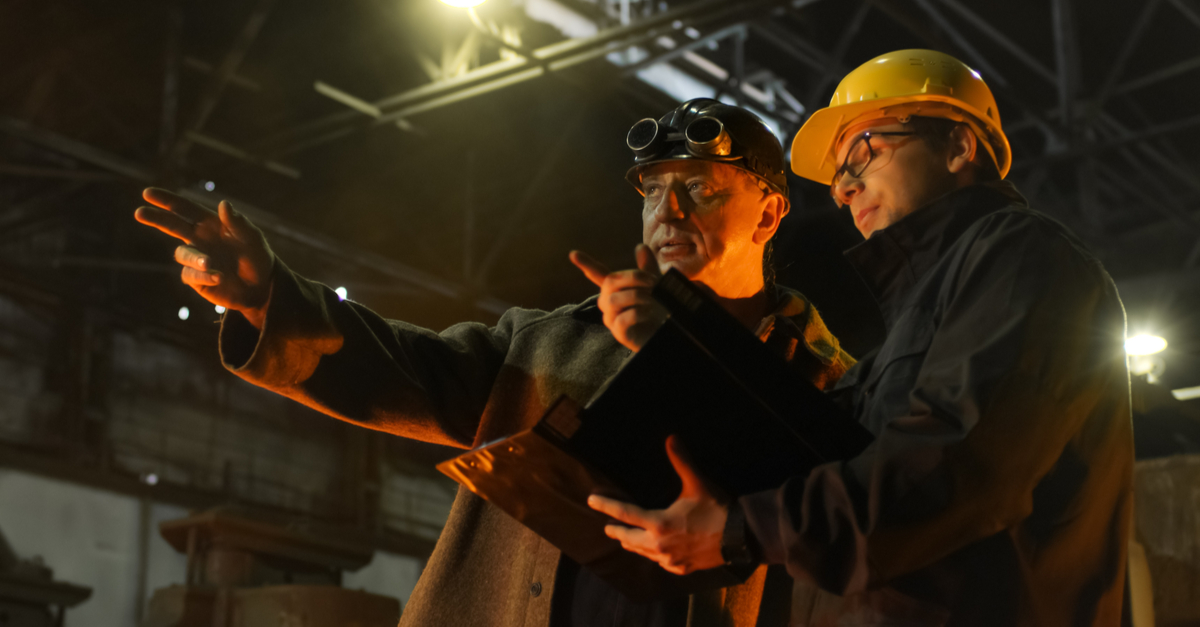 (c) shutterstock
Today the key problems are the safety of employees and production, as well as the logistics challenges
The Russian aggression against Ukraine has radically changed the reality of the iron & steel companies in Ukraine. Some enterprises work with a reduced workload, or only ship products from a warehouse. About 90% of steel production capacity was shutdown, but plants are actively tackling the problems in order to restore operations soon.
Compared to the previous analyzed period, the situation in iron & steel sector has changed. Enterprises are trying to organize work in wartime.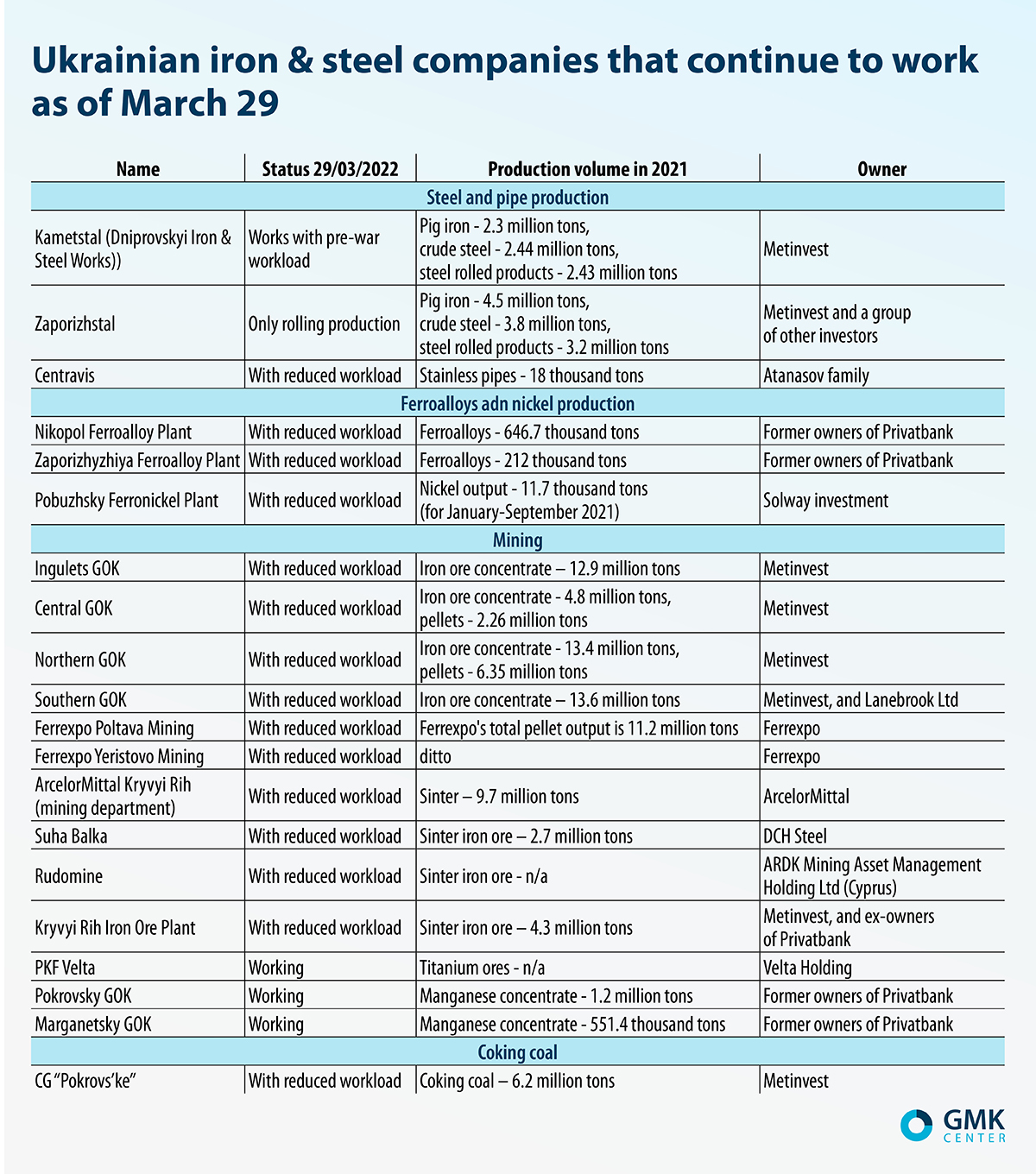 Data Sources: open Media and press-releases. The data prepared by the GMK Center may not be complete, since not all enterprises report their activities or, on the contrary, directly avoid any public mention for security reasons.
The words "with reduced workload" can mean a wide range of options – from the completion of work in progress to 60-70% workload with the possibility of partial shipment of products to European consumers.
Steel Capacities
Today Kametstal is the only plant in Ukraine that continues to produce steel. In March, the enterprise mastered the production of a new type of rolled products . The plant has expanded the range of products, which today has an increased demand on the market, in particular, it has begun production of grinding balls with a diameter of 80 mm. These products are required for iron ore beneficiation, and are supplied to Northern GOK, Central GOK, and Ingulets GOK . Previously, grinding balls were produced at Azovstal. As GMK Center reported, in February, Kametstal produced 286.8 thousand tons of sinter, 168.1 thousand tons of pig iron, 180.4 thousand tons of crude steel, 70.2 thousand tons of steel rolled products. The total output of finished steel products amounted to 170.9 thousand tons. Today the level of capacity utilization of the enterprise is at the pre-war level, which in itself is a unique event.
Steelmaking facilities of the Dnipro Metallurgical Plant DCH Steel , ArcelorMittal Kryvyi Rih stopped and are on conservation. The Mariupol plants are in the hot conservation mode – the Ilyich Iron and Steel Works of Mariupol  and Azovstal , which was bombed.
"It is too early to say that the plant has been stopped forever. We will return to the city, rebuild the plant, revive it, and it will work, and glorify Ukraine just as it has always done. Because Mariupol is Ukraine, Azovstal is Ukraine. It was, is and will be," summarizes Enver Tskitishvili, General Director of Azovstal.
At the same time, the management of the plants is looking for opportunities to resume operations. Representatives of ArcelorMittal Kryvyi Rih, and Metinvest held talks with the management of Ukrzaliznytsia on the resuming of freight traffic, which is currently the main binding factor in the work of metallurgical enterprises.
Zaporizhstal partially resumed work at the cold rolling shop . In addition, the area for packaging, and shipment of finished products has been partially restored. Now the workers of the shop are focused on the preparation, and shipment of hot-rolled, and cold-rolled steel to Ukrainian consumers, and abroad. The plant can start up at full capacity, and restore capacity after logistical limitations will be resolved. Due to military actions, the plant cannot ship products by sea. In addition, there are problems with the supply of critical types of ferroalloys, and sulfuric acid, coal for the resumption of coke production. Assistance of the state is needed in solving logistical issues.
According to the GMK Center, at the end of 2021, Zaporizhstal produced about 4.5 million tons of pig iron, about 3.8 million tons of crude steel, and 3.2 million tons of steel rolled products.
The break of supply chains, in particular due to the decrease of Ukrainian slab exports, forced Metinvest Group's rolling mills in Bulgaria, Italy, and the UK to work as separate independent enterprises .
Iron ore production
Ukrainian mining and processing plants for iron ore have workload 30-75% of their capacity, working partly for supplies to the EU, and partly for warehouses.
ArcelorMittal Kryvyi Rih Mining Department continues to mine iron ore at a reduced workload.
Ferrexpo Poltava Mining reduced its workload but continues to work, and make efforts to support the export of iron ore pellets to the EU by rail. The company provides humanitarian aid for refugees, and local communities.
Suha Balka DCH Steel continues to work . The enterprise specializes in underground mining of iron ore with a capacity of about 3.1 million tons of sinter ore per year.
Mining and processing plants of Metinvest in Kryvyi Rih continue to work with a reduced workload. For example, Northern GOK actively restores, and repairs transport equipment together with specialists from Zeppelin Ukraine.
The Southern GOK completed the iron ore concentrate production plan for March under martial law.
Pipe capacities
Centravis has reopened several sectors to fulfill orders from unfinished pipes at various stages in the hot and cold shops, although much of the equipment is still stay idle.
Interpipe does not work, the situation has not changed, but the company continues to ship products from warehouses for a number of orders. The steel plant "Interpipe Steel", as well as pipe enterprises – "Interpipe -NTZ", "Interpipe NMTZ", and "Interpipe Niko Tube " – stopped. The company continues to provide diverse aid to Armed Forces of Ukraine and civilians.
Ferroalloys and nickel production
Our industry sources confirm that ferroalloy plants continue to operate at a reduced workload, as do the mining and processing plants that provide them with raw materials.
The Nikopol Ferroalloy Plant paid wages to employees in advance for February and March, paid UAH 400 million in taxes to the budget in advance, and helped prepare their city for defense.
Due to the blockade of seaports, the Pobuzhsky Ferronickel Plant is operating with a 50% capacity workload, as announced Denis Shevchenko, general director of the enterprise, in an official press release.
Coke production
Avdiivka Coke Plant is not working and has suffered from shelling.
GC "Pokrovs'ke" , the Ukraine's largest producer of coking coal, is actively developing and has completed the installation of a new longwall face.
Ukrainian iron & steel sector shows a high level of organization and stability, working during the period of hostilities. We hope that the next update of this information will allow us to share more positive news.
---
---