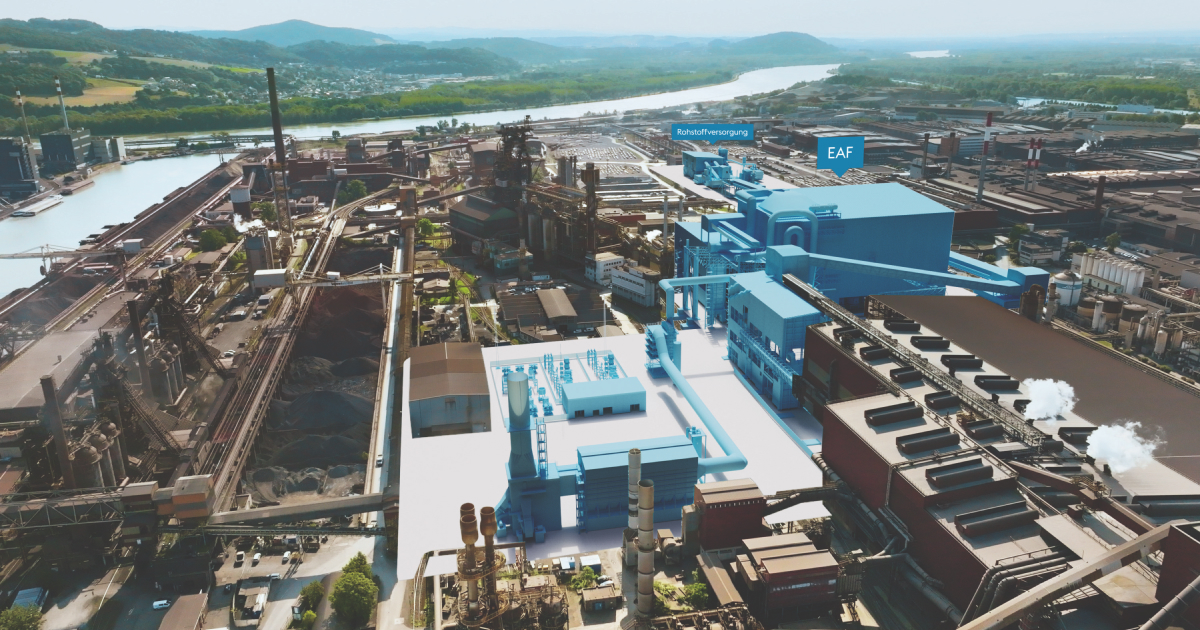 voestalpine
Construction of the unit with a capacity of 1.6 million tons of steel per year is planned to begin in 2024
The Austrian steel producer voestalpine, as part of the greentec environmental project, has started work on the construction of an electric arc furnace (EAF) at the company's plant in Linz. This is stated in the press release of voestalpine.
«Only a few weeks after the official start of the construction of the new EAF at the voestalpine plant in Donavwitz, today the foundation of the electric arc furnace is being laid in Linz as part of the greentec project,» the message says.
The construction of the EAF in Linz will begin in 2024, and the commissioning of the facility is planned for 2027. The capacity of the unit is estimated at 1.6 million tons of steel with a reduced CO2 content per year. To maintain the high quality of products, the furnace will operate using a mixture of scrap, pig iron and hot briquetted iron (HBI) as raw materials. Investments in the project are estimated at €1 billion.
At the first stage of the greentec project, the company plans to replace two blast furnaces at the factories in Linz and Donawitz with high-tech electric arc furnaces. By electrifying energy-intensive steel production processes, the company plans to reduce CO2 emissions by approximately 30% from 2027, which is equivalent to an annual reduction in emissions of almost 4 million tons.
The second stage of greentec involves the start of construction of two more EAFs in Linz and Donawitz, as well as additional investments in the development of the plant in Linz. Thus, by 2050, the company plans to achieve zero emissions. For this, research into new ways of steel production and investments in pilot projects are being carried out.
«The two laying ceremonies of electric arc furnaces in Linz and Donawitz are more than just a symbolic act and the beginning of a construction project. They are a visible cornerstone of voestalpine's green future and an important milestone for climate protection in Austria,» comments Herbert Eibensteiner, CEO of voestalpine.
The volume of investments in both projects is €1.5.
As GMK Center reported earlier, the developer of advanced technologies in decarbonization Compact Membrane Systems (CMS) together with voestalpine announced the launch pilot project on carbon capture Optiperm carbon. It will start operating in the fourth quarter of 2023 at the steel company's plant in Linz.
---
---