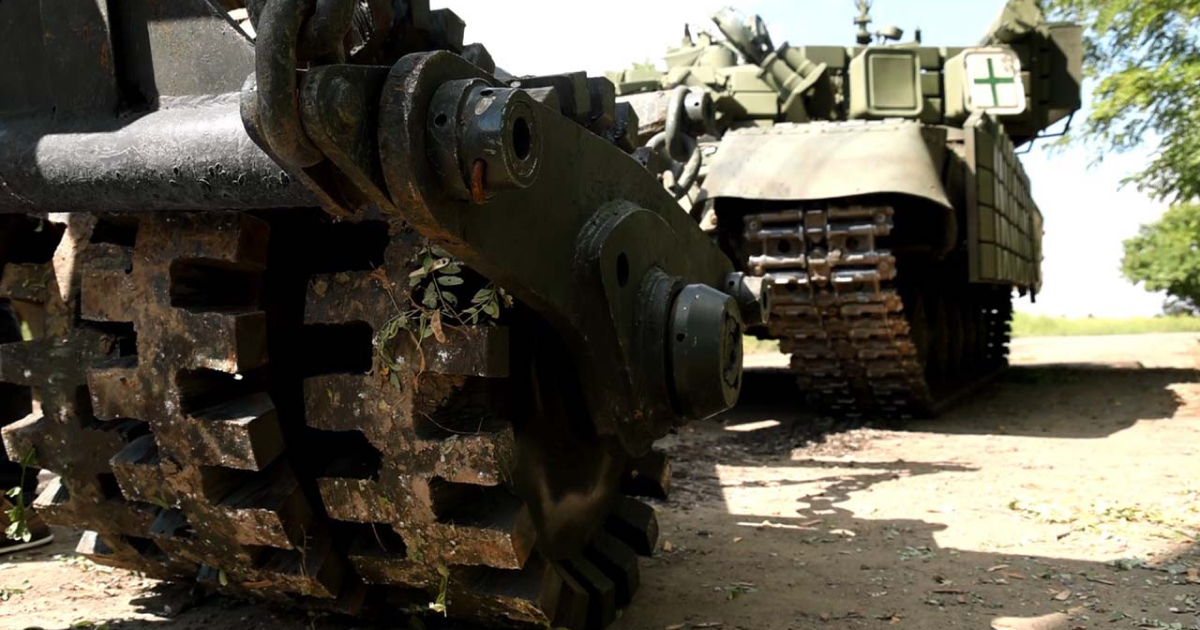 The units are mounted on tanks for neutralizing and detonating anti-tank and anti-personnel mines
Metinvest Group, through «Steel Frontт» initiative, established the serial production and supply of anti-mine trawls for tanks that assist counteroffensives to the Armed Forces of Ukraine (AFU). This is stated in  the press release.
Anti-mine trawls similar to the KMT-7 design are attached to tanks for neutralization and detonation of anti-tank and anti-personnel mines.
«Mine trawls are a purely Ukrainian product made from local steel at the Group's enterprises in Ukraine. The country's armed forces have a great need for trawls, given the dense mining by the enemy along the entire front line. In response to a request from the Ukrainian military, Metinvest's engineers improved the KMT-7 minesweepers, making their own equivalent alternative: paired rollers mounted on tanks for neutralizing or detonating anti-tank mines and anti-personnel mines,» the message says.
The production cost of one trawl is about UAH 2.5 million, including additional equipment for tank crews, which is required for the installation of the device. The company plans to produce up to five trawls per month.
The weight of one set of rollers reaches 6.5 tons, the size is 3.77×3.44 m. According to the standards of the Armed Forces, one trawl must withstand 4-5 detonations of anti-tank mines. Since the trawlers work in pairs, both should withstand 8 to 10 blasts. The trawl is normally attached to the main battle tanks of the Armed Forces.
The units have passed all the necessary tests from the Ministry of Defense of Ukraine and will be primarily supplied to the brigades of the National Guard (NGU) and the Ground Forces on the hottest areas of the front. In order for combat brigades to have the opportunity to quickly repair trawls after use, the company also established the release of components, which makes it possible to quickly return mine countermeasures to work in frontline conditions.
«Mine trawls are an important component of counteroffensive operations. They not only protect the crews of Ukrainian tanks, but also clear paths for infantry. The availability of such equipment, which can be manufactured by Ukrainian enterprises, is critically important for the country during the war. This gives the security and defense forces of Ukraine a reliable rear guard: in this case, Ukrainian metallurgists, miners, and engineers of Metinvest, whose work has helped to provide the army with effective mine countermeasures,» said Andriy Belyaev, commander of the Khortytsia 23rd Separate Public Order Protection Brigade of the National Guard of Ukraine.
As GMK Center reported earlier, Metinvest since the beginning of the war in Ukraine systematically supports both the state and the military. During this period, UAH 4.2 billion was allocated to military and civilian needs. More than UAH 2 billion has been allocated to support the Ukrainian army.
---
---