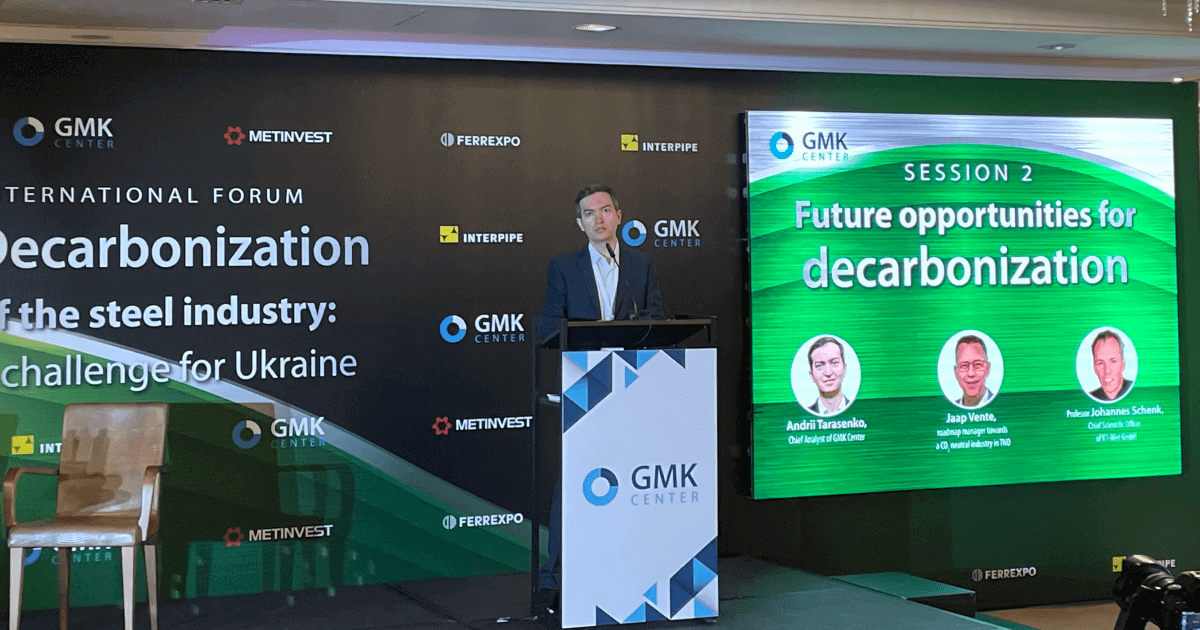 There are no ready-made solutions in the global market, they will start emerging since 2025
Achieving climate neutrality of Ukraine's steel industry will require $25 billion of capital investments, or estimated $1 thousand per ton of BOF capacities. The main investment load will fall on 2030–2070.
That was stated by Andrii Tarasenko, GMK Center Chief Analyst, in his speech at the international forum on "Decarbonization of the steel industry: a challenge for Ukraine".
Currently, such cutting-edge technologies to achieve carbon neutrality as smelting reduction, carbon capture and utilization, hydrogen-based DRI and electrolysis are at the R&D stage.  The majority of the world's largest steel companies are exploring the possibilities of the second and the third technologies.
According to Andrii Tarasenko, the development of the following technologies could be expected on a medium-term horizon:
by 2025: converting exhaust emissions into chemicals, using biomass for partial coal replacement, using hydrogen to replace pulverized coal;
by 2028: smelting reduction with carbon capture;
by 2030: СО2 capture for storage and conversion, hydrogen-based DRI production.
Taking into consideration such long implementation terms, the majority of the largest steel companies are expecting to achieve climate-neutral production by 2050 at the earliest.
"According to the estimates of the International Energy Agency (IEA), by 2070, the hydrogen-based DRI will be the key technology for iron ore-based steel production, 41%. In total, the share of DRI technologies in iron ore-based steel production will be 55%. In 2050–2070, the output of steel produced by carbon capture-based smelting reduction will almost double and exceed 30%. This means that in 2070, steel will be produced either from scrap or iron ore using hydrogen or applying capture technologies," Andrii Tarasenko explained.
Technological innovations will entail a number of new challenges in the industry:
higher steel prices, triggered by 30–80 % increase in operating costs for "green" steel production;
the emergence of new competitive factors, including cheap electricity, caused by changes in the cost structure;
the need for huge capital investments; the need for around $25 billion for the transition of Ukraine's steel industry to climate neutrality;
changes in business models, closure of companies in auxiliary industries;
5–6 fold reduction of the need for workforce in comparison with the current technologies, as well as increased requirements for employees' qualification levels.
As reported earlier by GMK Center, cutting-edge technologies could be first introduced on an industrial scale in 2035 at the earliest.
As reported earlier, last year witnessed a 28.2% decrease to $1.37 billion in capital investments in mining & metals sector companies, including a 40.8%, to $640.2 million, decrease in investments in the steel industry, and 11.8%, to $734.2 million, in the mining industry.
The prime partner of the forum "Decarbonization of the steel industry: a challenge for Ukraine" was Metinvest, other partners included Ferrexpo and Interpipe.
---
---