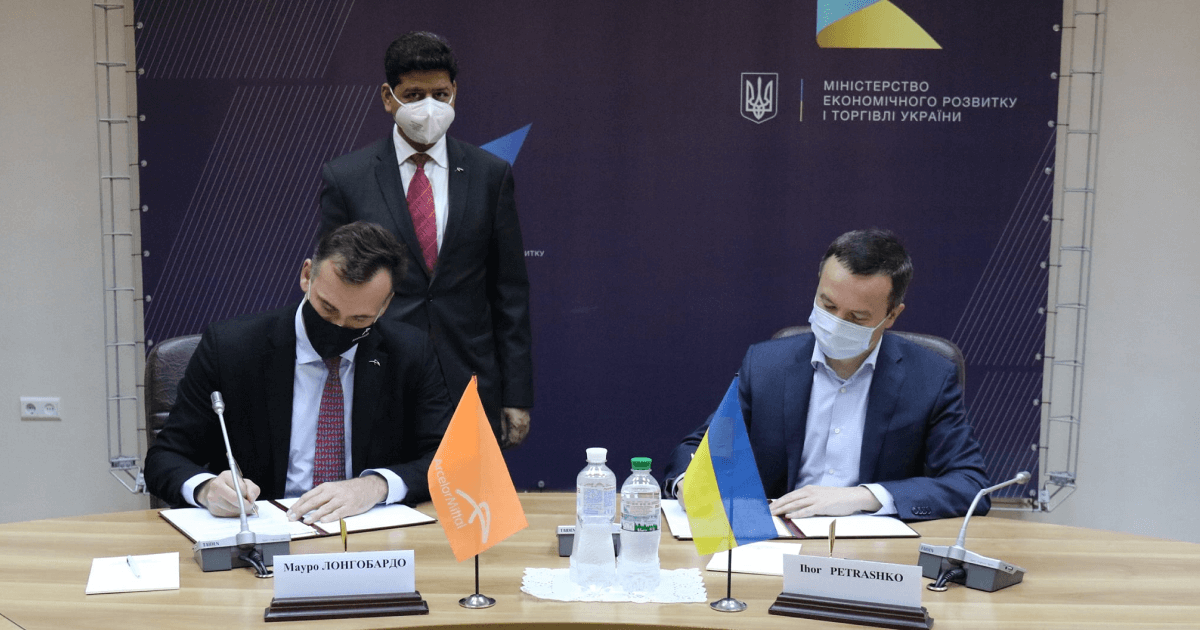 The Company plans to invest $1 billion in environmental modernization and production development under a Steel Billion program
ArcelorMittal Kryvyi Rih PJSC (ArcelorMittal) and the Ministry for Development of Economy, Trade and Agriculture signed a Memorandum for the implementation of new investment projects for environmental modernization worth $1 billion.
This was earlier agreed by the Executive Chairman of ArcelorMittal Kryvyi Rih, Lakshmi Mittal, and President of Ukraine, Volodymyr Zelenskyi, at a meeting in Kyiv, according to a post on the company's website.
The Memorandum was signed by the Minister of Economy, Trade and Agriculture of Ukraine, Ihor Petrashko, and ArcelorMittal Kryvyi Rih CEO, Mauro Longobardo.
The Steel Billion, a new investment program of ArcelorMittal Kryvyi Rih, provides for $1 billion investment portfolio for environmental modernization and production development.
Among other things, it will focus on environmental impact reduction, company's sustainable development and introduction of circular economy principles: efficient use of resources, recycling and waste management.
The Memorandum provides for the following areas of development and investment:
green steelmaking reducing pollution and carbon footprint;
sustainable development of iron ore mining — a 30-year extension of mining prospects;
creation of new production facilities, in particular rolling and bar mills;
modernization of operating facilities;
circular economy and waste management (use of biomass, СО2 emissions regulation, slag and sludge treatment).
The program will last for 10 years, from 2022 to 2032, according to the Cabinet of Minister's website.
"Together with the President and Parliament, we have launched effective tools to increase Ukraine's investment attractiveness. Today's Memorandum is one of the first successful examples when a large international company plans to use relevant tools to increase investment amounts and the number of jobs in Ukraine," said Ukraine's Prime Minister Denys Shmyhal.

"ArcelorMittal is a major investor in the economy, exporter and employer. Today, we have reached an agreement that the company will significantly increase the amounts of investment in Ukraine and launch up-to-date and environmentally friendly production technologies in steelmaking, a strategic econometric sector," Mr Petrashko noted.

We continue to implement large investment projects and are gradually transforming ArcelorMittal Kryvyi Rih into a modern European production. Steel Billion is our new program for Ukraine. By this program, we will finance green steelmaking technologies and decarbonization projects. This fully complies with ArcelorMittal Group's strategy to become carbon-neutral," said Mr Longobardo.
According to him, ArcelorMittal has invested some $5 billion in production development over the past 15 years of operation in Ukraine.
ArcelorMittal Kryvyi Rih PJSC is an integrated steelmaking company, a part of the ArcelorMittal Group. Its activity covers the entire production route from iron ore mining and coke production to manufacture of finished metal products. The company produces semi-finished and long products and rolled sections.
---
---