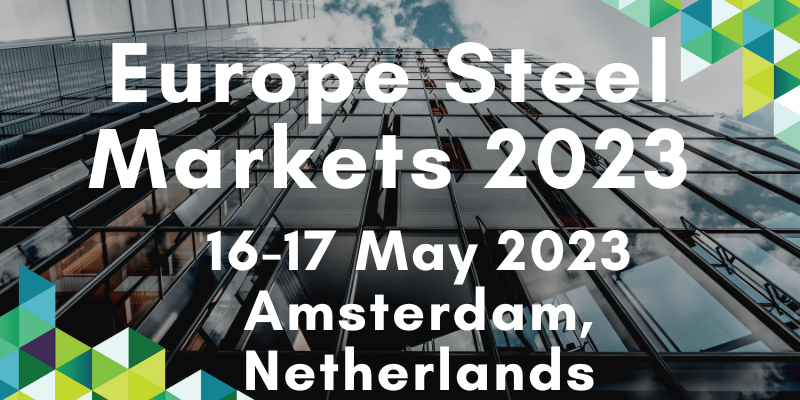 In 2022, global steel production decreased by 4% due to geopolitical challenges, the war in Ukraine and the energy crisis
The 8th annual Europe Steel Markets conference will be held in Amsterdam (Netherlands) on May 16-17. Steel industry executives and market participants will gather to discuss the sector's global and European outlook for the second half of 2023. They will also share their experience and the latest developments in the industry.
The event will discuss:
price trends for steel, iron ore and scrap metal;
the growth of the central role of scrap among raw materials;
high costs of electricity in production;
demand patterns in the main sectors where steel is used;
implementation and impact of the carbon border adjustment mechanism (CBAM);
new breakthrough technologies of the industry;
production of green steel;
the state of China's economy and steel markets.
Among the main speakers:
Heather Wijdekop – commercial director of Tata Steel IJmuiden;
Alexander M. Julius – managing director of MacroMetal and member of the presidency of Eurometal;
Francois-David Martino – CEO of Becker Stahl Service;
Stephane Tondo – Technical Head of Government Affairs and Climate Change, ArcelorMittal;
Stanislav Zinchenko – CEO of GMK Center;
Cesare Vigano – managing director of ArcelorMittal;
Karl Tachelet – Deputy General Director for International Affairs and External Relations of EUROFER;
Wilfred Geerlings – Senior Commercial Sustainability Manager, Tata Steel Europe;
Rita Monteiro – Head of Decarbonization Department, GFG Alliance;
Gorkem Bolaca – managing director of Galex Steel International.
You can register for the event by link.
GMK Center has been cooperating with Kallanish for three years in a row and regularly participates in their events, which gather a huge number of industry experts.
---
---