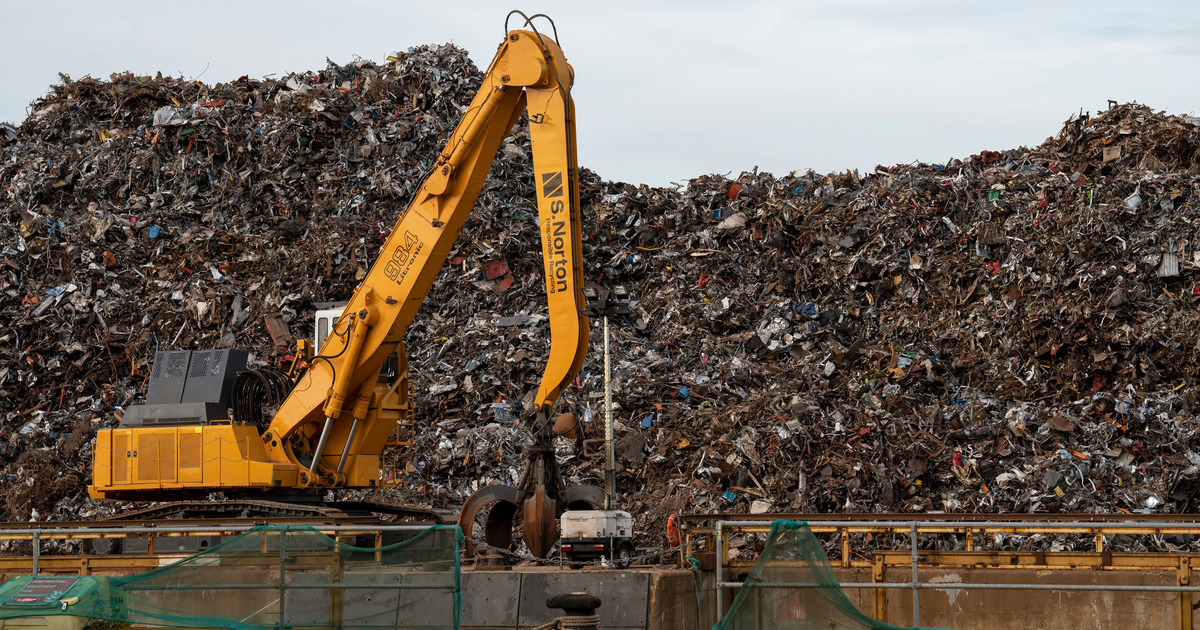 Scrap
The positive trend is maintained due to the growth of demand amid limited supply
Since the beginning of November, scrap prices have been rising in the world's major markets, including Turkiye, the US and China. The positive trend is supported by limited supply and rising demand ahead of the winter holiday season. As the collection rate is not expected to improve, most market participants expect prices for raw materials to rise further.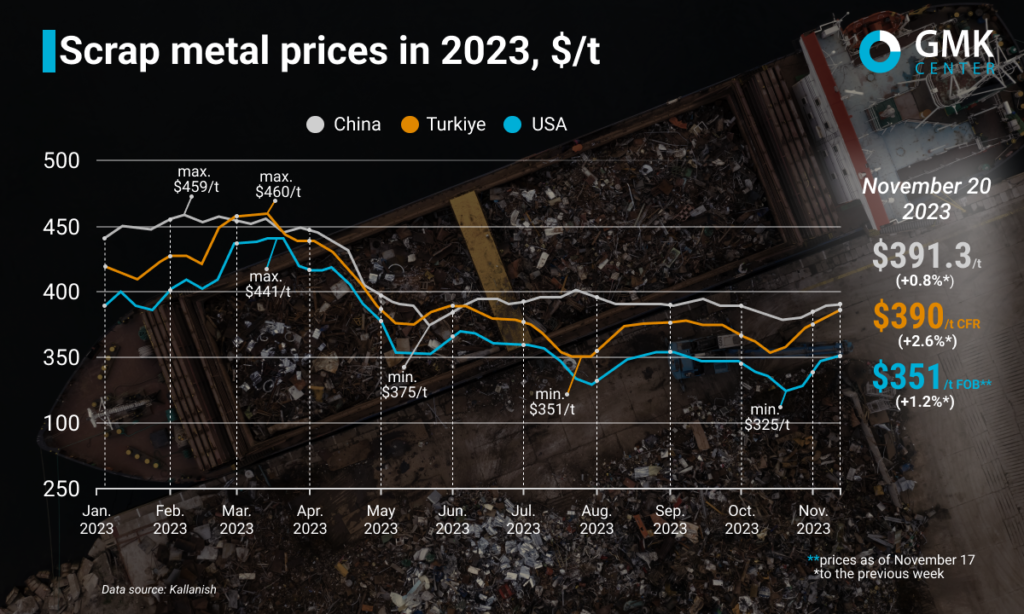 Prices for scrap in Turkiye increased by $10/t, or 2.6%, compared to the previous week – up to $387-390/t CFR for the period November 13-20. Since the beginning of November, scrap quotations on the Turkish market have increased by $24/t, or 6.6% compared to the price as of November 20. In general, a positive price trend has been observed since October 24, as prices had been stagnant since early September.
Turkish scrap prices are supported by demand from local steelmakers. Steel producers are buying raw materials amid an improving steel market and stabilization of other economic factors that have recently hampered trade.
Turkiye's steelmakers are still facing weak export demand for rebar, as well as problems passing on the rising cost of raw materials to end users. Domestic demand, which is the main driver of the Turkish rebar market, also shows no signs of real recovery.
Despite the negative factors, scrap prices have been kept at high levels – the highest since early June 2023 – thanks to a limited supply of raw materials, a stronger euro and rising freight rates. Steel companies are actively replenishing stocks ahead of the winter holiday season, as supply is likely to deteriorate even further.
Turkish steelmakers believe that scrap prices have already reached peak levels and will soon stabilize, as most of the plants are already finalizing cargo bookings, and the sector's key indicators do not contribute to further growth in raw material prices. At the same time, some of them expect scrap prices to rise to at least $400/t by the end of the year amid low raw material collection rates that will only continue to deteriorate.
The US market (East Coast) is also growing. As of November 17, prices for raw materials increased by 1.2%, or $4/t, compared to the previous week – up to $350-351/t FOB. At the same time, the forecast price for November 24 is $356-359/t FOB. In general, since the beginning of November, scrap prices on the East Coast of the United States have increased by $26/t (+8%). Prices have now reached their highest level since early July 2023.
The upward trend in the US scrap market is supported by rising demand and prices in export markets, particularly in Turkey, as well as rising hot-rolled coil prices in the domestic market. This is expected to support the market in December.
Market participants believe that prices will rise in the short term, but this growth may be restrained by insufficient demand for raw materials from US steelmakers. On the other hand, trading activity will be supported by limited supply and the desire of steel producers to replenish stocks before the winter holidays.
In the domestic market of China, the quotations of raw materials also recovered, but the growth rate is much lower than in Turkiye and the United States. For the period of November 13-20, prices increased by 0.8% to $391.31/t. Since the beginning of November, quotes have increased by 2.5%.
Last week, domestic scrap prices were supported by increased demand from steelmakers. The rise in coke prices increased the cost of pig iron, prompting steelmakers to consume more scrap. In addition, the collection of raw materials slowed down while demand started to grow.
Currently, steelmakers are trying to restrain the rise in scrap prices to avoid rising costs, but market conditions largely depend on the supply of scrap this week. Supply is not expected to recover to demand levels, so prices will continue to rise.
As GMK Center reported earlier, Ukraine inJanuary-September 2023 increased exports of scrap by 3.7 times per year – up to 131.1 thousand tons. Imports during this period fell by 50% y/y – to 0.8 thousand tons.
---
---