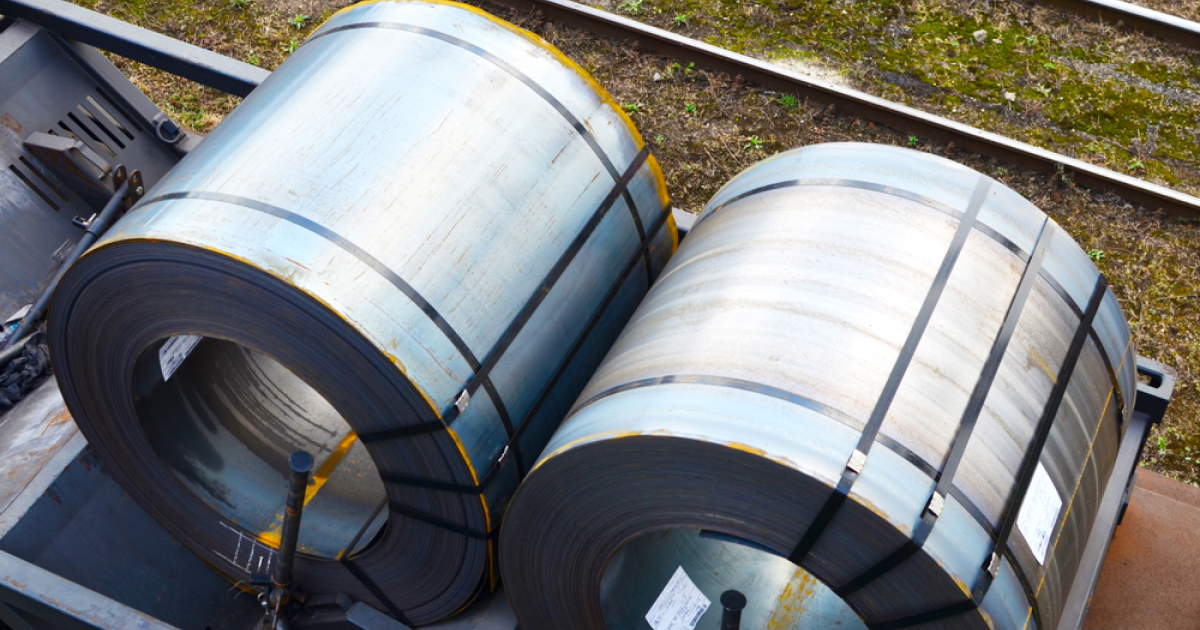 HRC
Global rolled steel trade is slowing due to uncertainty in the Chinese market
World prices for hot-rolled coils are falling, as trade in the products has come to a halt due to lack of demand. Purchases of products slowed down due to negative market sentiment, which is influenced by the uncertainty of the Chinese market and negative macroeconomic factors.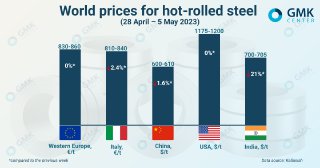 Prices for hot-rolled steel in Western Europe during April 28 – May 5 remained at the level of last week – €830-860/t. At the same time, on Italian market the price of hot-rolled steel fell by 2.4%, or €20/t – to €810-840/t.
Activity on the Italian hot-rolled steel market is slowing down. Traders, service centers and distributors report extremely low demand for products, while producers struggle to maintain high product prices. Some seelmakers are set on selling rolled steel at a price of €880/t for delivery in August and September, but the market believes that the demand situation is quite difficult and even a price reduction will not restore interest in steel rolled steel.
Buyers took a wait-and-see position ahead of the Made in Steel conference in Milan, which is likely to see price adjustments.
Currently, the gap between European hot-rolled steel prices and Asian import offers is becoming dangerously large and unstable. Products from Vietnam, India and Japan are offered at €650-660/t delivered to Italy for large volumes and €680-690/t for smaller lots. Delivery times for imported products are available at the same time as those offered by local producers.
Such a situation in the short term may lead to a decrease in prices for European products. If demand does not recover, which is unlikely in May given the economic instability, Italian hot-rolled steel prices could fall to €750-770/t.
In addition, in mid-June, the ArcelorMittal steel plant in Dunkirk plans to resume production at BF №4, which was damaged by a fire in March 2023. This will put even greater pressure on the prices of European hot-rolled steel in conditions of weak demand.
On Chinese market prices for hot-rolled steel are also decreasing. As of May 5, 2023, quotations ranged at $600-610/t FOB, which is 1.6% less than the previous week. At the same time, the forecasted price for May 12 is $580-590/ton.
China's hot-rolled steel market remains weak after the holidays as macroeconomic factors and weak demand continue to weigh on product prices. The supply of hot-rolled steel remains consistently high, and inventories have increased during the period of suspension of purchases during the holidays. Combined with weak demand, this has caused domestic hot-rolled steel prices to fall to their lowest level in 5 months.
Activity in export markets is low. Despite this, plants and exporters avoid lowering prices. In addition, rumors began to spread through the market that China is launching raids on exporters who illegally evade VAT. Such activity of government institutions will protect legal sellers from artificial undercutting of prices.
In the short term, the stagnation of the hot-rolled steel market in China is expected to continue. Traders will be forced to adjust price levels due to high product inventories, but contracts will be concluded for small batches of products. Prices are likely to start to recover after inventories draw down, as is expected amid the shutdown of many steel mills.
Prices for hot-rolled steel in USA are stable, as trade has frozen amid uncertainty about the further development of the market. Product quotations in North America for the week of April 28 – May 5, 2023, were $1,175-1,200/t, holding at this level for the fourth consecutive week.
Uncertainty and market concerns about the macroeconomic prospects in the country are restraining the rolled products trade. Currently, special attention is paid to the prices of raw materials. Buyers evaluate likely price scenarios on the scrap and scrap metal market to determine the best time to buy a rolled steel.
Indian hot-rolled steel for the week of April 28 – May 5, 2023, lost 21.5%, or $40/t, decreasing to $700-705/t.
Rolled steel prices in India have fallen amid weak global demand and aggressive competition from Vietnam, China and Japan. European buyers – the main consumers of Indian products – are refraining from purchases due to deteriorating sentiment in the Asian market, forcing suppliers to adjust prices to more attractive levels. According to local exporters, the main factor restraining trade is uncertainty in the Chinese market.
In addition, the Indian government has recently decided not to increase import duties on rental cars. The move increases competition in the domestic market and forces Indian factories to curb rising prices for local products.
Indian producers point out that the market is already close to the bottom, and the space for further price corrections is very limited. In the event of further pressure on prices, some producers will have to stop production to adjust supply and demand.
As GMK Center reported earlier, Ukrainian steelmakers in January-March 2023 exported 122.89 thousand tons of flat rolled products for $81.2 million. The largest consumers of Ukrainian products are Poland, Bulgaria and Romania.
---
---