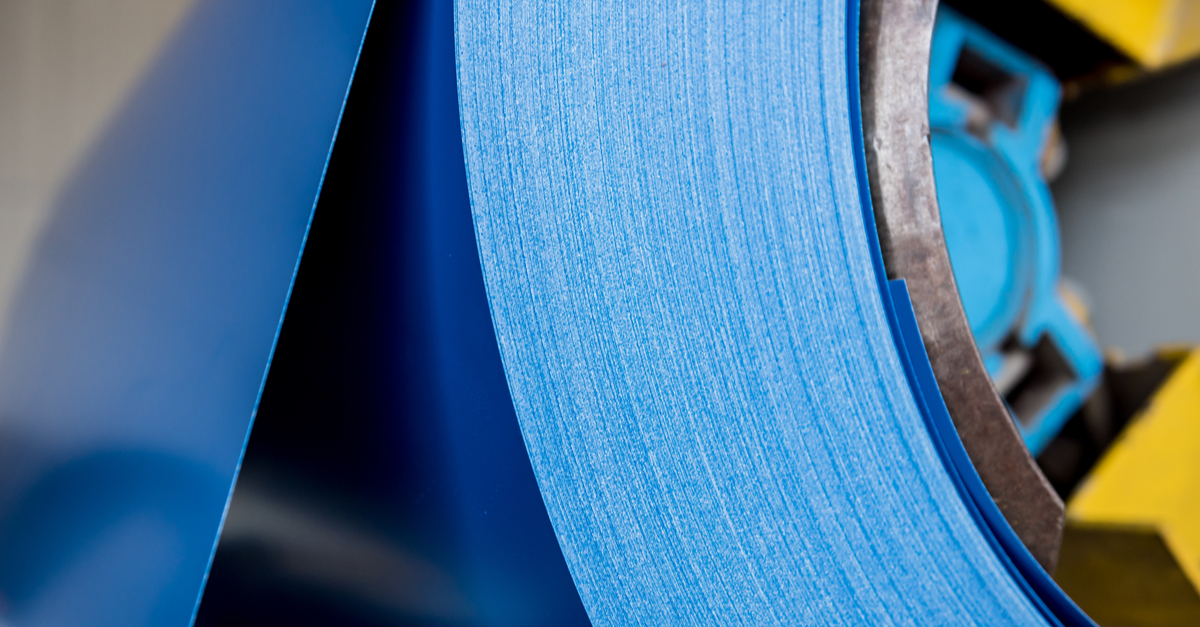 Flat rolled steel
Ukrainian consumers' spending on imports of flat products decreased by 3.8% m/m
In April 2023, Ukraine reduced imports of flat products by 1.6% compared to March 2023 – to 64.9 thousand tons. Import costs in April increased by 3.8% m/m – up to $76.2 million. This is evidenced by State Customs Service's data.
Compared to April 2022, in April 2023, Ukraine increased the cost of importing flat products by 2.3 times. It is impossible to calculate the difference in export volumes in natural terms due to the lack of data.
In January-April 2023, Ukraine consumed 232.41 thousand tons of imported flat products worth $76.2 million. Expenditures on imports of foreign products increased by 68.8% compared to the same period last year, and the volume of deliveries – by 2.4 times.
According to GMK Center analyst Andriy Glushchenko, the growth of imports is associated, firstly, with the destruction of the Mariupol plants, which specialized in flat products. Secondly, there is the impact of a low base of comparison – in March-April 2022, economic activity almost stopped due to hostilities. Accordingly, import issues were not in the first place.
"In the long term, imports of flat products will increase, especially during the post-war recovery. Import supplies will become the main source for meeting domestic demand. In the short term, import volumes can be expected to stabilize at a certain level, taking into account the existing logistical constraints in war conditions," he predicts.
In January-April 2023, flat-rolled products clad with coating with a width of 600 mm or more (Nomenclature 7210) were imported to Ukraine the most – 116.8 thousand tons for $143.5 million. In April, imports of such products fell by 16.8% m /m – to 30.34 thousand tons, and purchase costs amounted to $37.1 million (-16.1% m/m).
Also, 73.6 thousand tons of unclad hot-rolled flat products with a width of 600 mm and more (Nomenclature 7208) were imported for $66.1 million, and in April – 28.03 thousand tons (+104.7% m/m) for $26.61 million (+104.8% m/m).
The top three among the types of flat products in terms of imports to Ukraine in January-April 2023 are uncoated cold-rolled carbon steel flat products with a width of 600 mm or more (Nomenclature code 7209) – 20.6 thousand tons for $18.3 million. In April, the supply of such products to Ukraine fell by 80.2% compared to the previous month – to 1.79 thousand tons, and in monetary terms – by 73% m/m, to $2.04 million.
The largest suppliers of coated flat products with a width of 600 mm or more in January-April 2023 were China, Poland and Turkiye – 24.3%, 18.3% and 18.5%, respectively, in monetary terms. Turkiye (33.6%), Slovakia (21.3%) and Italy (17.6%) shipped more than 70% of unclad hot-rolled flat products with a width of 600 mm or more. The main supplier of uncoated cold-rolled flat products in January-April 2023 was Turkiye (60.2%).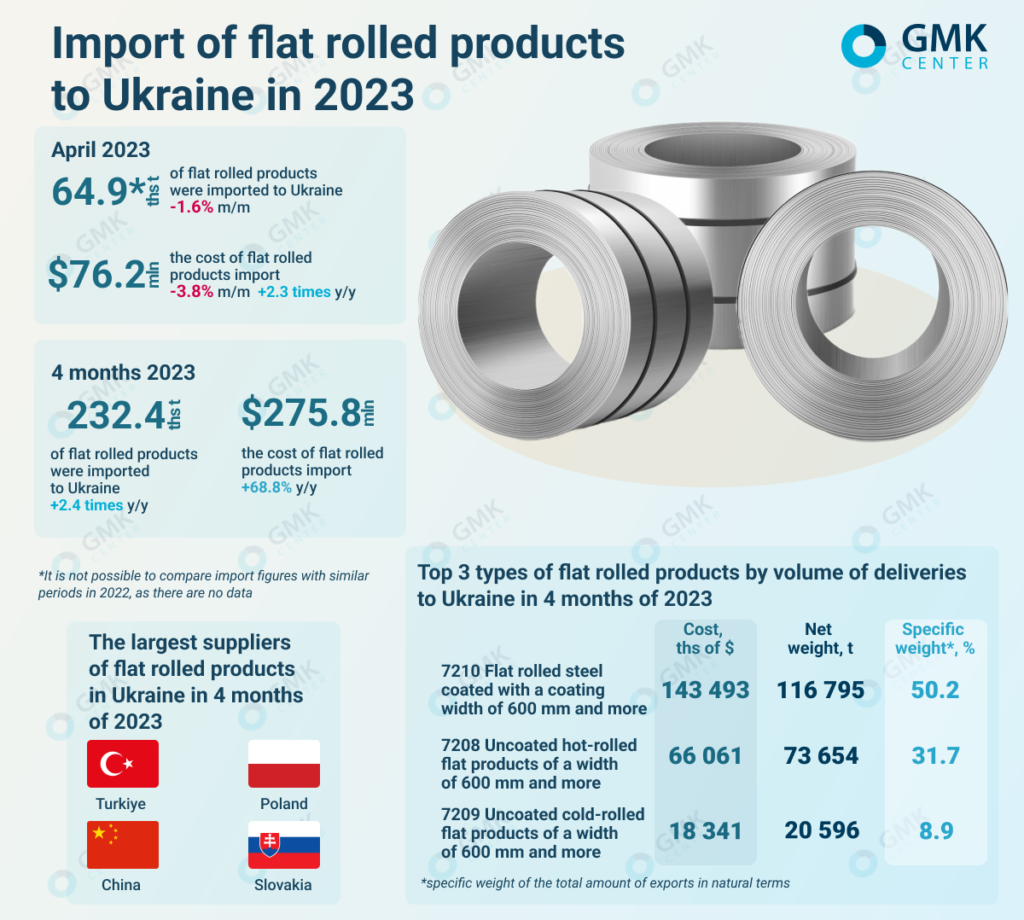 After the Russian invasion of Ukraine, the export of ferrous metals decreased sharply due to the blockade of ports, logistical problems, the negative situation on the world markets, as well as the destruction of large steel plants in Mariupol – Azovstal and Ilyich Iron and Steel Works. Enterprises located in the territory controlled by Ukraine are working with low load due to problems with logistics, unfavorable conditions in the world steel markets. Until recently, the negative impact on local steelmakers was caused by interruptions in energy supply as a result of shelling of the Ukrainian energy infrastructure by Russian troops, but now the situation has stabilized.
As GMK Center reported earlier, in 2022, Ukraine reduced imports of flat steel products by 32.8% compared to 2021 – to 472.01 thousand tons. Import costs for the year decreased by 24.1% y/y – to $698.83 million. The largest suppliers of products were Turkiye, Poland, Slovakia and China.
In January-March 2023, Ukrainian steelmakers exported 58.43 thousand tons of flat products for $38.17 million. The import of flat products exceeds the export of such products by Ukrainian producers by 7.51 thousand tons.
---
---