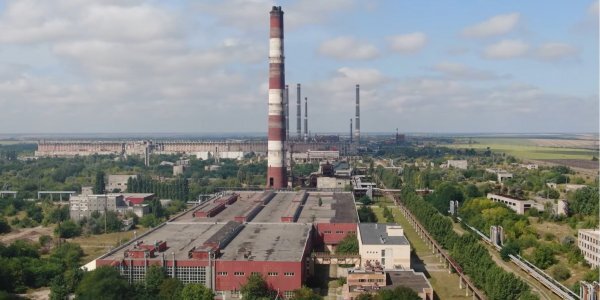 (с) gokor.com.ua
The company plans to allocate $100 million for 'resuscitation' of a part of Soviet abandoned construction site
According to information reported by Rudomain on its Facebook page, Dolinsky Mining and Processing Plant LLC, founded by Rudomain LLC, won an auction and acquired part of property of the Ukraine-owned unfinished industrial giant Oxidized Ore Mining and Processing Plant (KGOKOR) in Dolynska Town of Kirovohrad Oblast.
According to information from the ProZorro system, a bid of ₴450.6 million from a sole bidder, Dolinsky Mining and Processing Plant LLC, was registered on 19 December, and the letter of intent to conclude an agreement on 21 December. Currently, there is no information on the conclusion of agreement in the system, but the company states that it has already acquired Ukraine's share in KGOKOR's property.
"We are finally launching Dolinsky Mining and Processing Plant. I am convinced that all investments made in the enterprise will contribute to its development and prosperity, and also give a new lease of life to the town," said Volodymyr Kolos, Director of Rudomain.
According to information retrieved from the Register of Legal Entities, Individual Entrepreneurs and Public Organizations, Dolinsky Mining and Processing Plant LLC was registered on 6 December. The founder is Rudomain LLC with its share amounting to ₴200 million. Director is Sergey Kobzhev. According to YouControl, he is also a founder of Budtorg and director of two other companies: Ferimpex and Ukrainian Kaolin Company.
As GMK Center has already reported, Rudomain announced that it intended to allocate ₴450 million — an amount equivalent to the amount of transaction — to pay off KGOKOR's debts.
As reported earlier, on 1 September, the Ministry of Strategic Industries announced that it was planned to allocate $100 million in investments for KGOKOR's 'resuscitation'.
In accordance with the memorandum signed with the Ministry of Strategic Industries, Rudomain intends to launch the first stage of KGOKOR's finishing construction by 2023. Proceeding from the said document, the company is an official investor in the finishing construction of Dolinsky MMP and undertakes to invest $100 million in the enterprise and bring it to full capacity by 2025. The design capacity of the iron ore processing plant is supposed to be 12.5 million tons per year, and its finished products production capacity up to 3 million tons per year. In general, the company plans to pay $37 million of taxes and fees to the budget and to allocate over $1 million to the town's social development. The project provides for the creation of 1.5 thousand jobs.
The construction of the plant began in 1985 as a joint project of the USSR, Romania, Slovakia and some other countries. In 2007, Romania and Slovakia, the main construction partners, withdrew from the project and requested their investments back. Around $1.5 billion was spent on the project, but over 30 years after the USSR collapse, the enterprise has not been commissioned and its operational readiness remained at the level of 65%.
As of 1 January 2007, Ukraine's debt under KGOKOR project to Romania was $353 million, Slovakia $115.1 million, Bulgaria $1.4 million, Germany $47.34 million. The total debt amounted to $517.43 million.
Total investments required to complete the construction of and commission KGOKOR were then estimated at $800 million. In 2021, the funding allocated to the enterprise totaled ₴23.85 million.
---
---