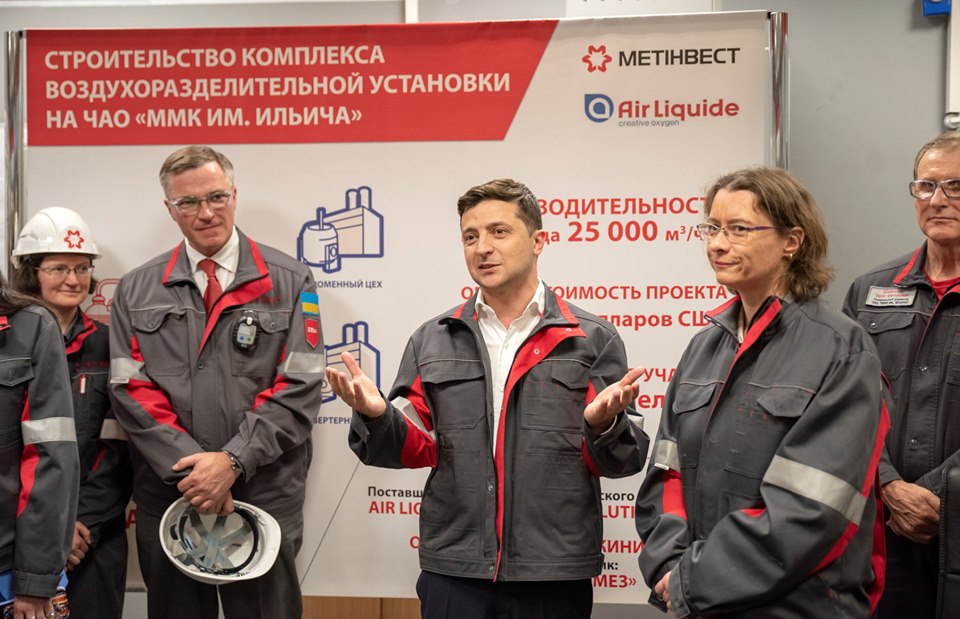 The project of the Metinvest Group and Air Liquide on the construction of an air separation unit is estimated at $78.3 million
The Metinvest Group signed a contract worth $78.3 million with a French company, Air Liquide, for the construction of an air separation unit at Ilyich Iron and Steel Works of Mariupol (Ilyich ISWM). According to Metinvest Holding, the kick-off event was attended by the Ukrainian President Volodymyr Zelenskyi and the French Ambassador to Ukraine Isabelle Dumont.
The signing ceremony took place at the production site of CCM No. 4.
"I would like to thank our French partners for their belief that Ukraine is a stable and free democratic state. We can talk about large investment projects in Ukraine. Today's signal that all countries have nothing to fear is very important for the whole world. This is a very important investment project for Ukraine and for Mariupol. What this great company showed us today proves that we live in a wonderful country of worthy people," the Ukrainian President emphasized.

"We are upgrading not only main production facilities, but also auxiliary infrastructure. Air Liquide is Ukraine's long-time partner that produces up-to-date, state-of-the-art equipment. We managed to attract foreign investment in the project. This means that Metinvest is trusted. Now, it is the right time to make the Ukrainian steel industry competitive in the global market," said Yuriy Ryzhenkov, CEO and Chairman of the Executive Committee of the Metinvest Group.
The capacity of the air separation unit is 25 thousand cubic meters of oxygen per hour. It consists of a gasification station with a liquid oxygen storage, an evaporator, and two pumps. The unit will reduce energy consumption by 20% and cover the needs of the plant for oxygen in the production of pig iron.
Ilyich ISWM has already labeled the would-be air separation unit the most up-to-date one in Ukraine. Air Liquide, the world leader in the production and supply of gases, technologies and services for the industrial and healthcare sectors, will provide equipment for the project, while Metinvest Engineering and Ilyich ISWM will implement it.
The construction of the air separation unit will create a thousand additional jobs. According to the website of the President of Ukraine, Air Liquide is going to allocate the first tranche of $25 million under the contract. Bpifrance Assurance Export, a French state-run export credit agency, will also invest in the project.
Ilyich ISWM is planning to put the unit into operation in 2021.
As reported earlier, Ilyich Iron and Steel Works of Mariupol launched a new CCM worth $150 million in March.
Ilyich Iron and Steel Works of Mariupol will spend UAH 3.6 million for the repair of TPP
---
---