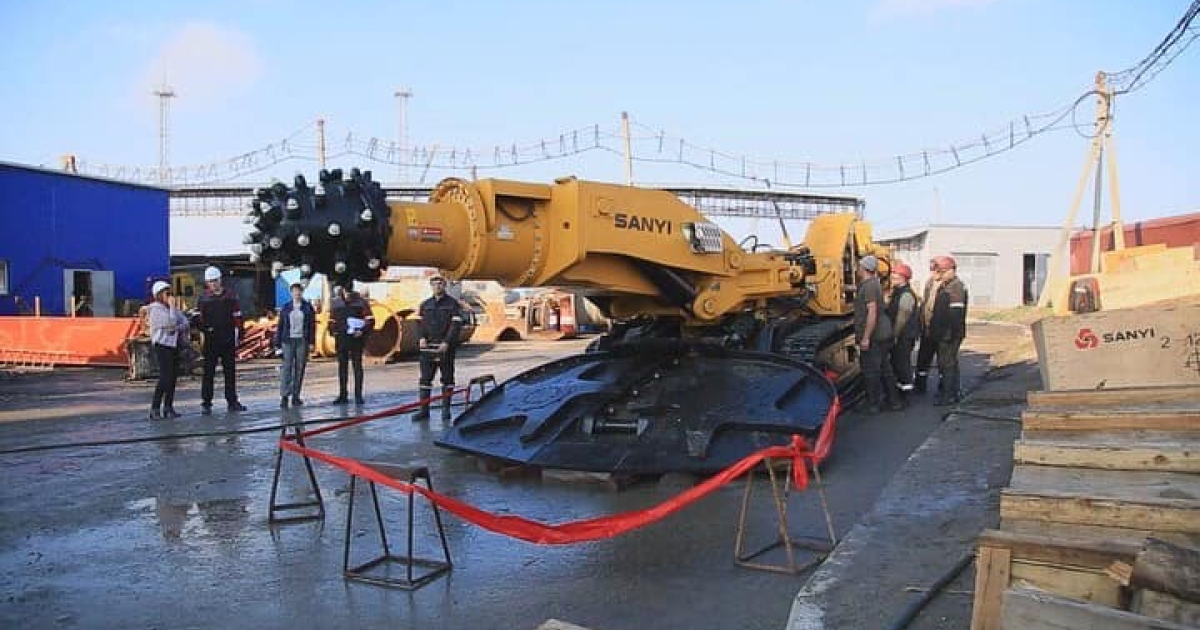 In October, the conveyor belt of the southern panel of block №10 will be laid with the help of a new unit
Metinvest Pokrovskugillia is putting into operation a new modern heavy-duty tunneling combine Sanyi. The company's press service reports about it.
"The new modern combine impresses with its grandeur and power. And it can what his underground «colleagues» can't do. We are glad to present a new helper for tunnellers – a Sanyi heavy-duty tunneling combine," the company notes.
The weight of the new combine reaches 92 tons, and the length is 12.5 m. The machine is equipped with a liquid crystal display and remote control. The combine works much quieter than others, and the mining mass is loaded more efficiently.
"If the combine moved only to the right or left, this one can go diagonally. Double-circuit cooling of the hydraulic system makes it possible to work without interruption, without overloading the equipment. The combine itself is concerned about its normal operation," the message reads.
Mine builders have already tested the new unit. In October, with the help of a new combine, the conveyor belt of the southern panel of block №10 will be laid.
As GMK Center reported earlier, in July 2022, the Pokrovske Mine Administration put into operation 13th southern longwall of block №10. The team of station №7 producted the first tons of coal.
In March longwall installation work was stopped due to the war, but it was resumed at the end of the month. Clearing of the 13th southern longwall of block №10 was launched under the plan announced in June.
Metinvest Pokrovskvugillia includes several enterprises of the Pokrovske Coal Group, including the Pokrovske Mine Administration and the Svyato-Varvarynska Concentrator. These enterprises carry out the extraction of run-of-mine coal, its enrichment and sale as coal concentrate.
---
---