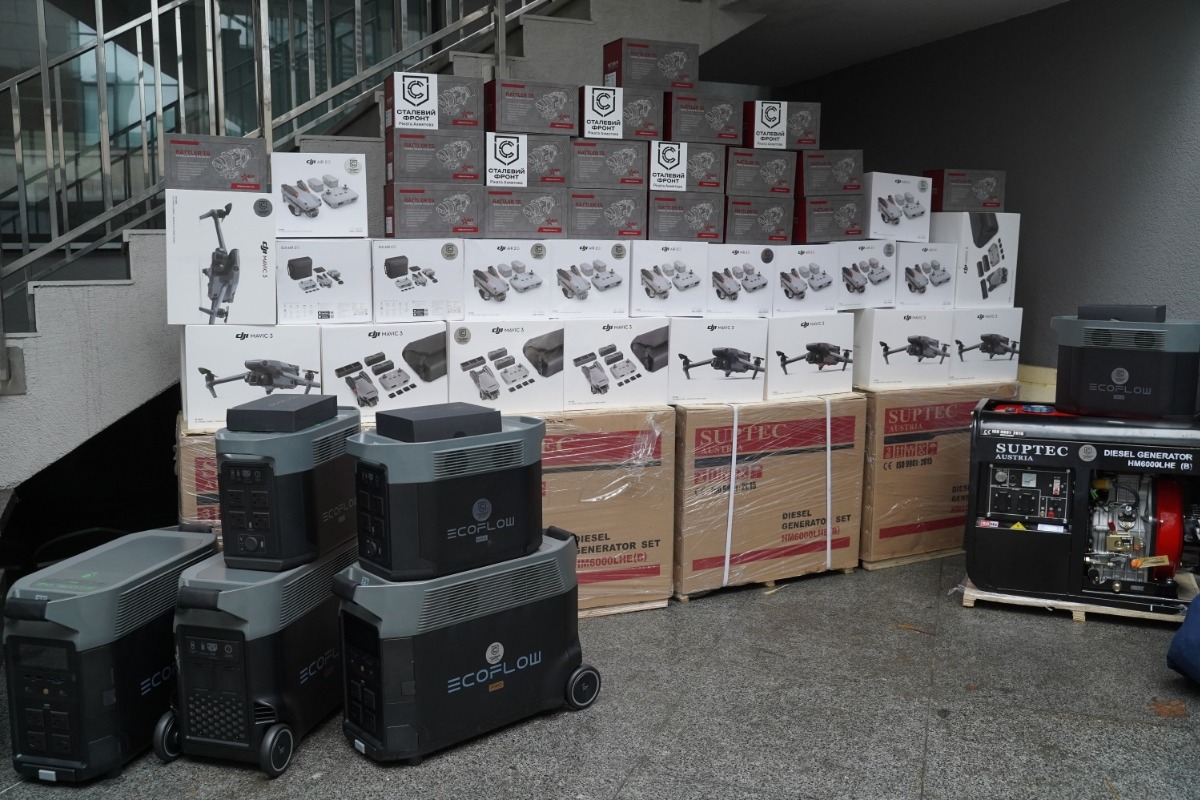 Metinvest's aid
The company also provided 100 tons of metal structures for the restoration of posts
Metinvest Group provides systematic support to Ukrainian border guards – they receive machinery, equipment and construction materials from the company. It is stated in the message of Metinvest.Media.
The new batch of aid for the State Border Service of Ukraine (SBSU) includes 40 DJI Mavic 3 and Air 2 drones, 20 thermal imagers, 30 EcoFlow multi-charging stations and 30 six-kilowatt generators. Generators and charging stations will provide electricity to border crossings where the power grid is not connected.
In addition. the company sent 300 sets of winter uniforms and thermal clothing (jacket, pants, hat, scarf, mittens, socks, bandana) and 50 pairs of Lowa tactical shoes to the soldiers. The total cost of assistance provided within the framework of Rinat Akhmetov's Steel Front military initiative amounted to UAH 12 million.
The border guards were also given an additional 100 tons of steel constructions for the restoration of the posts – this is the second time the company has provided them with steel for the restoration of structures. Earlier, 120 tons of steel from the company were transferred to strengthen the borders.
The modern equipment will allow the SBSU to keep the positions under surveillance even at night, while our military will conduct surveillance remotely, remaining in a protected place.
"Of course, every time it becomes more and more difficult for us to find large quantities of scarce equipment, but Metinvest will continue to support the Ukrainian army until victory," said Oleksandr Vodoviz, head of the project office of the Group's CEO.
According to him, the company does not single out separate divisions, it helps everyone: border guards, SSU, MID, military troops. In addition, Metinvest does not look for compromises and does not choose cheap equipment, because the life of defenders of Ukraine depends on its stable work.
Oleksandr Sebalo, a representative of the State Border Service of Ukraine, said that in the near future the cargo transferred by the Metinvest Group will go to the regions where active hostilities are currently taking place.
As GMK Center reported earlier, Metinvest Group handed over another batch to the specialists of the Main Directorate of Intelligence (MID) for more than UAH 10 million, which included 20 drones, 35 generators and 30 EcoFlow multi-charging stations.
---
---