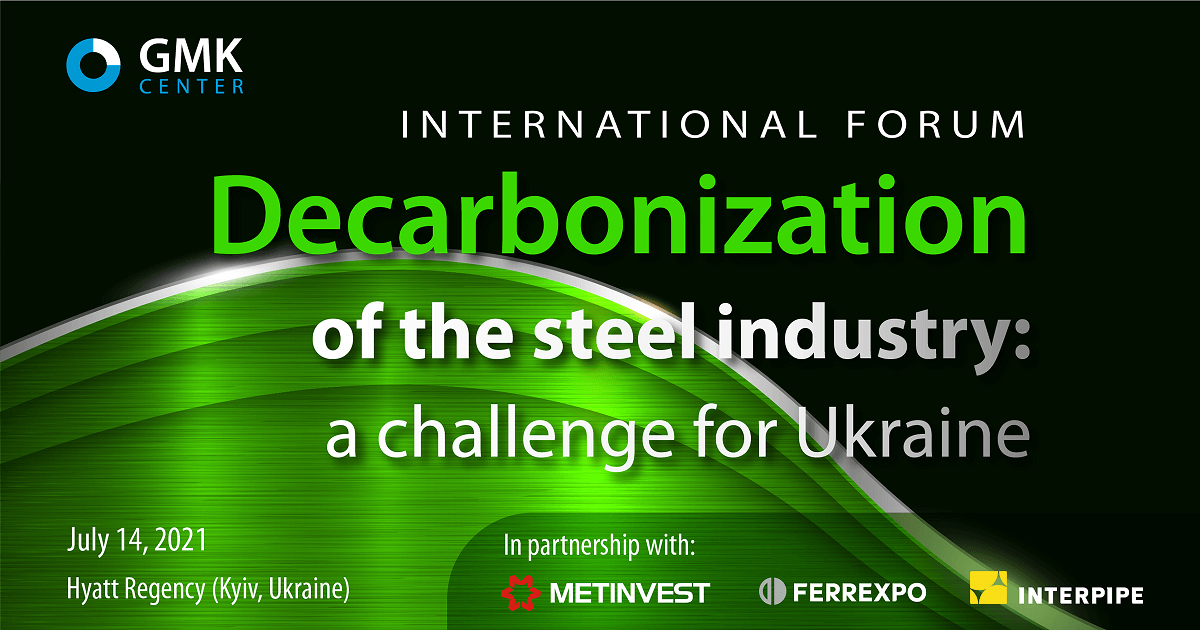 GMK Center brings together the industry leaders to discuss decarbonization prospects for the steel industry
GMK Center, a Ukrainian leading research agency and media, invites top managers of leading iron ore and steelmaking companies, equipment manufacturers and engineering companies, international experts and government officials to take part in the International Forum on "Decarbonization of the steel industry: a challenge for Ukraine".
The event will take place on 14 July 2021 in a combined format (offline and online). Venue — Hyatt Regency (Kyiv). To register, follow this link
In recent years, decarbonization has been actively discussed by the international community of industry professionals. For the first time, an event on the topic will be held in Ukraine.
The forum in Kyiv will be centered on practical aspects of the introduction of advanced technologies to reduce CO2 emissions and switch to carbon-free steel production. At the forum, GMK Center will present its new study on "Decarbonization of the steel industry: a challenge for the coming decades".
Ukraine is a party to the Paris Agreement and among the world's top steel producers. Last year, the country was ranked 11th, with the output of 21 million tons. The global trend towards industrial decarbonization has become a new challenge for Ukrainian steelmakers.
The forum participants will discuss challenges associated with decarbonization of production, available and emerging technologies, companies' plans to cut CO2 emissions and relationships with the government in this area. Representatives of the following companies have confirmed their participation in the event:
Mining & metals companies: ArcelorMittal Kryvyi Rih, Metinvest, Ferrexpo, DCH Steel, Interpipe.
Engineering, consulting and R&D companies: Horst Wiesinger Consulting, World Steel Dynamics, K1-MET, TNO, Bilfinger Tebodin, Danieli Heavy Machinery, Primetals.
Representatives of the Cabinet of Ministers, the Verkhovna Rada, regional authorities, industrial and business associations, international and Ukrainian experts, and the press are also invited to participate.
The forum is organized by GMK Center, a leading research agency and media of steelmaking and industry. The GMK Center's portfolio includes the organization of the following significant events: European Steel Conference 2019 in partnership with World Steel Dynamics, a sectoral forum on "Industrial Policy and the Iron & Steel Sector: the World Experience for Ukraine", a round table on "The impact of CBAM on the steel industry of Ukraine".
---
---