Ferrexpo
Better electricity supply and the launch of the second pelletizer line enabled the output increasing
The Swiss iron ore company Ferrexpo with assets in Ukraine produced 901 thousand tons of pellets in the 1Q 2023, which is 116% more than in the 4Q 2022, when 420 thousand tons were produced. This data is stated in the Ferrexpo Production report for the 1Q 2023. The entire volume of output was represented by pellets with an Fe content of 65%.
It should be noted that the results of the first three months of the 2023 are close to the total production for the second half of 2022 (993 thousand tons). Such a significant increase in the volume of production took place due to the improvement of the electricity supply, which allowed to launch the second pelletizer line in late February.
But output volumes are 67% lower than in the 1Q 2022, when the company operated all four lines. In April-June 2023, Ferrexpo plans to continue operating with no more than two pelletizer lines, unless there are significant changes that could affect production and logistics. It should ensure that the output volume of 2Q 2023 could be close to the 1Q results.
"Going forward, we are looking to balance production volumes with a conservative approach to maintaining Group's balance sheet and liquidity metrics, providing a stable and consistent supply to our long-term customers" – Jim North, CEO of Ferrexpo commented.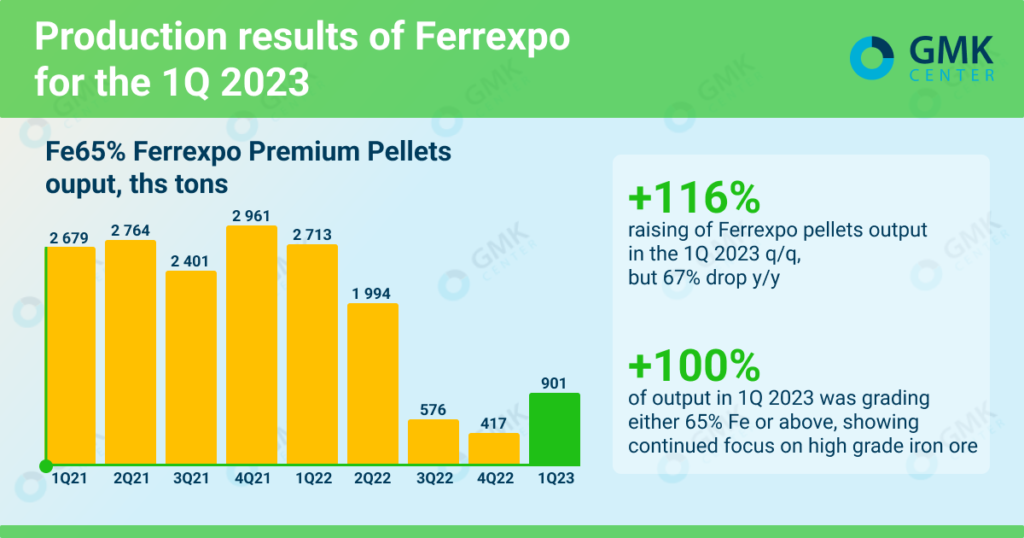 As GMK Center reported earlier, in 2022 Ferrexpo reduced pellet production by 46% compared to 2021 – to 6.053 million tons. Pellet output in the fourth quarter decreased by 86% y/y – to 417 thousand tons, in particular, DR pellets – by 18% y/y, to 353 thousand tons.
Ferrexpo is a Swiss-based mining company with iron ore assets in Ukraine. It produces and exports high-quality iron ore pellets for steel production. Its production assets include Poltava Mining and Yeristovo Mining (holding a 100% stake each).
---
---