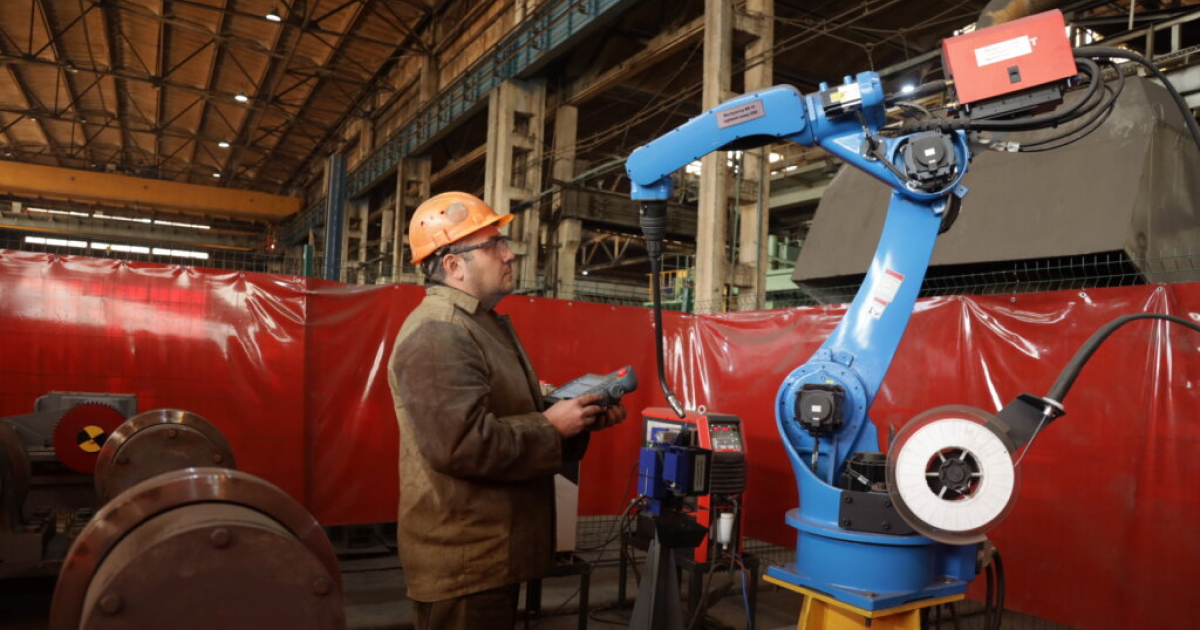 The unit was installed in the steel construction shop of the Foundry and Mechanical Plant
ArcelorMittal Kryvyi Rih put into operation a new welding robot-manipulator in the steel construction shop of the Foundry and Mechanical Plant. This is stated in press release of newspaper Metalurg.
"Among the tasks that the workshop has to perform quite often and in significant volumes is the repair and surfacing of rotors for miners' equipment. To repair and to weld it, you need to do welding almost inside the spare part itself. And the welder's hand, which holds the welding machine, gets the most, because it is affected by high temperatures. We spyed the solution at Azovstal. A special welded robot-manipulator was already used there," the report says.
Now the robot performs welding in difficult-to-access places. The task of the electric welder is to control and manage the operation of the unit. Due to this, the process and terms of surfacing and welding of rotors were accelerated.
"If the work of restoring one rotor with two welders took about 40 hours before, now with the help of workers, this task can be completed in 24 hours. And as practice has proven, the welder's experience combined with the robot's capabilities guarantee 100% work quality," the company summarizes.
As GMK Center reported earlier, ArcelorMittal Kryvyi Rih carried out scheduled repairs of the 140-ton excavator №55 in quarry №3 of the mining department. In total, 11 excavators of various models with bucket volumes from 5.5 to 12.5 cubic meters are operated in quarry №3.
Also, ArcelorMittal Kryvyi Rih performed a major overhaul of the generator GP-4000 of the skip hoist. The equipment is located in a mine at a depth of 1,000 meters, and it was possible to repair it when production was completely stopped.
---
---