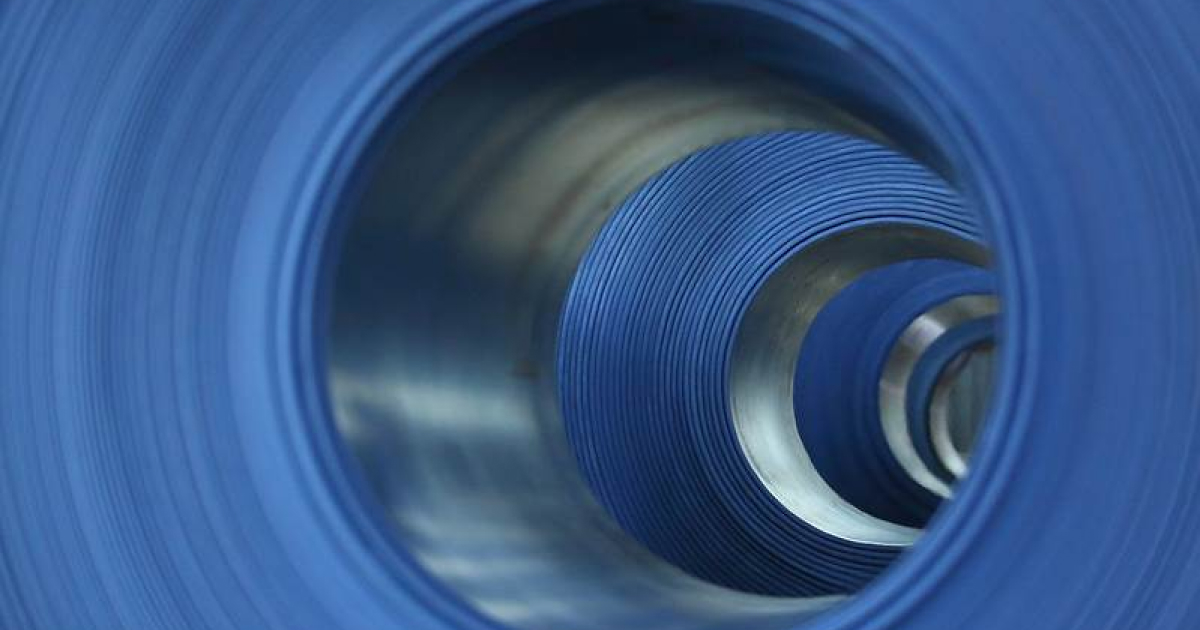 Metinvest's rolled steel
The growth of imports is caused by the destruction of the Mariupol steel plants, which specialized in the production of flat products
In January-June 2023, Ukraine increased imports of flat products by 2.7 times compared to the same period in 2022 – up to 390.3 thousand tons. Import costs for the first half of the year increased by 88% y/y – up to $463.8 million. This is evidenced by State Customs Service's data.
In June 2023, Ukrainian consumers imported 72.2 thousand tons of flat products, which is 3 times more compared to June 2022 and 15.8% less than May. Spending on imports of foreign products doubled y/y but decreased by 12.8% m/m – to $87.5 million.
Most of all, in January-June 2023, flat-rolled products clad with coating with a width of 600 mm or more (Nomenclature 7210) were imported to Ukraine – 190.73 thousand tons for $233.54 million. In June, imports of such products increased by 11.8% m/m (+2.6 times y/y) – up to 39 thousand tons, and purchase costs amounted to $47.82 million (+13.3% m/m; +90.9% y/y).
Also, 134.6 thousand tons of unclad hot-rolled flat products with a width of 600 mm and more (Nomenclature 7208) were imported for $122 million, and in June – 22.85 thousand tons (-40% m/m; +8.2 times y/y) for $20.2 mln (-43.4% m/m; +4.9 times y/y).
The top three among the types of flat products in terms of imports to Ukraine in January-June 2023 are uncoated cold-rolled carbon steel flat products with a width of 600 mm or more (Nomenclature code 7209) – 30.5 thousand tons for $28 million. June deliveries of such products to Ukraine fell by 34.8% compared to the previous month (+71.8% y/y) – to 3.9 thousand tons, and in monetary terms – by 33.5%.
The largest suppliers of coated flat products with a width of 600 mm or more in January-June 2023 were China, Turkiye and Slovakia – 25.6%, 20.6% and 17.6%, respectively, in monetary terms.
Turkiye (44.1%), Slovakia (17.4%) and Romania (14%) shipped more than 70% of unclad hot-rolled flat products with a width of 600 mm or more. The main supplier of uncoated cold-rolled flat products in January-June 2023 was Turkiye (60.5%).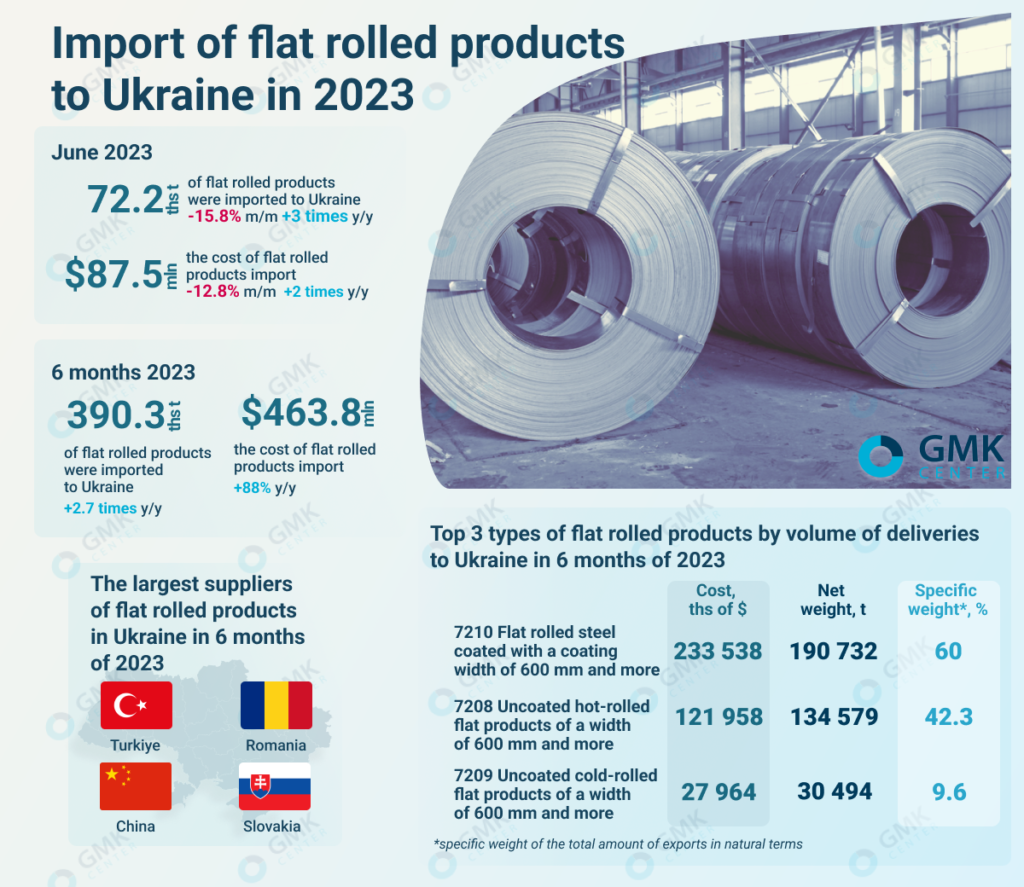 Now the Interdepartmental Commission on International Trade (ICIT) is investigating the imports of coated rolled products from China.
«Ukrainian producers are looking forward to the solution of these processes, since investigations should be completed a year ago, and our enterprises could maintain their share in the domestic market and not be forced out by Chinese goods,» said Olena Omelchenko, Partner at Ilyashev & Partners Law Firm, Head of International Trade Practice, in the GMK Center column.
The Ministry of Economy has already provided the results of an investigation into coated steel. Decisions can be made soon. The document states that it is planned to apply a duty ranging from 30.76% to 48.14% of the customs value, depending on the foreign producer.
"This decision will create an entire industry in Ukraine. Today, this market is very unbalanced and unpredictable, since Chinese products are imported at dumping prices. All neighboring countries have trade restrictions for Chinese coated steel, and only Ukraine has no such duty," she added.
The growth of imports is associated with the destruction of the Mariupol steel plants, which specialized in the production of flat products. In addition, there is the impact of a low base of comparison – in March-May 2022, economic activity was at a low level due to hostilities. Accordingly, import issues were not in the first place.
Flat steel imports are expected to increase in the long term, especially during the post-war recovery. Import supplies will become the main source for meeting domestic demand. In the short term, imports will stabilize at a certain level, given the existing logistical constraints under war conditions.
As GMK Center reported earlier, in 2022, Ukraine reduced imports of flat steel products by 32.8% compared to 2021 – to 472.01 thousand tons. Import costs for the year decreased by 24.1% y/y – to $698.83 million. The largest suppliers of products were Turkiye, Poland, Slovakia and China.
---
---