Ferrexpo
During the third quarter, the company stockpiled pellets before the winter period to reduce risks
The London listed iron ore company Ferrexpo with assets in Ukraine produced 1.251 million tons of pellets in the third quarter of 2023, which is 17.3% more than in the previous quarter, when 1.066 million tons were produced. Ferrexpo production report for the third quarter of 2023 informs about it.
«Our performance during the quarter exceeded expectations. We were able to use two of the four embankment lines. Our strategy of early response and the right allocation of capacities allowed us to better respond to constantly changing circumstances. Despite the difficult logistics by rail and the available capacities of the ports, we continue to export premium products and serve the needs of our European customers,» comments Lucio Genovese, interim executive director of the company.
During the third quarter, Ferrexpo focused on stockpiling pellets before the winter period, when Ukraine's energy system is most vulnerable. Thus, the company reduces the risks of force majeure.
The entire production volume in the third quarter was represented by pellets with an iron content of 65%, as well as in the first and second quarters. In January-September 2023, Ferrexpo produced 3.218 million tons of pellets.
Despite pessimism on the global markets of steel products, during July-September prices for iron ore raw materials showed growth. This was a supporting factor for Ferrexpo, given the more expensive logistics for exporters from Ukraine.
Concentrate production for July-September 2023 amounted to 98 thousand tons, which is 8% less compared to the previous quarter. Since the beginning of the year, the production of such products has reached 257 thousand tons.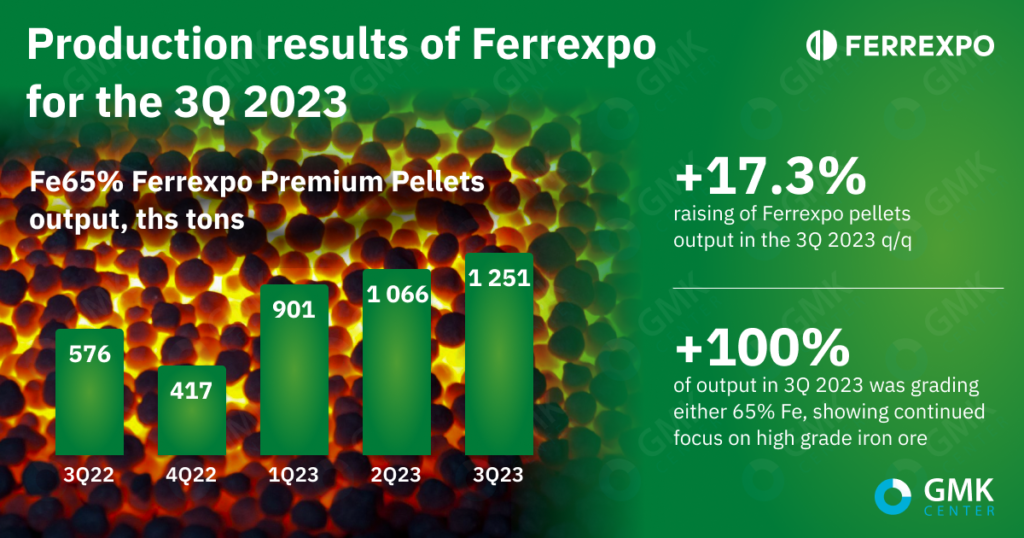 As GMK Center reported earlier, in 2022 Ferrexpo reduced pellet production by 46% compared to 2021 – to 6.053 million tons. Pellet output in the fourth quarter decreased by 86% y/y – to 417 thousand tons, in particular, DR pellets – by 18% y/y, to 353 thousand tons.
Ferrexpo is a London listed mining company with iron ore assets in Ukraine. It produces and exports high-quality iron ore pellets for steel production. Its production assets include Poltava Mining and Yeristovo Mining (holding a 100% stake each).
---
---