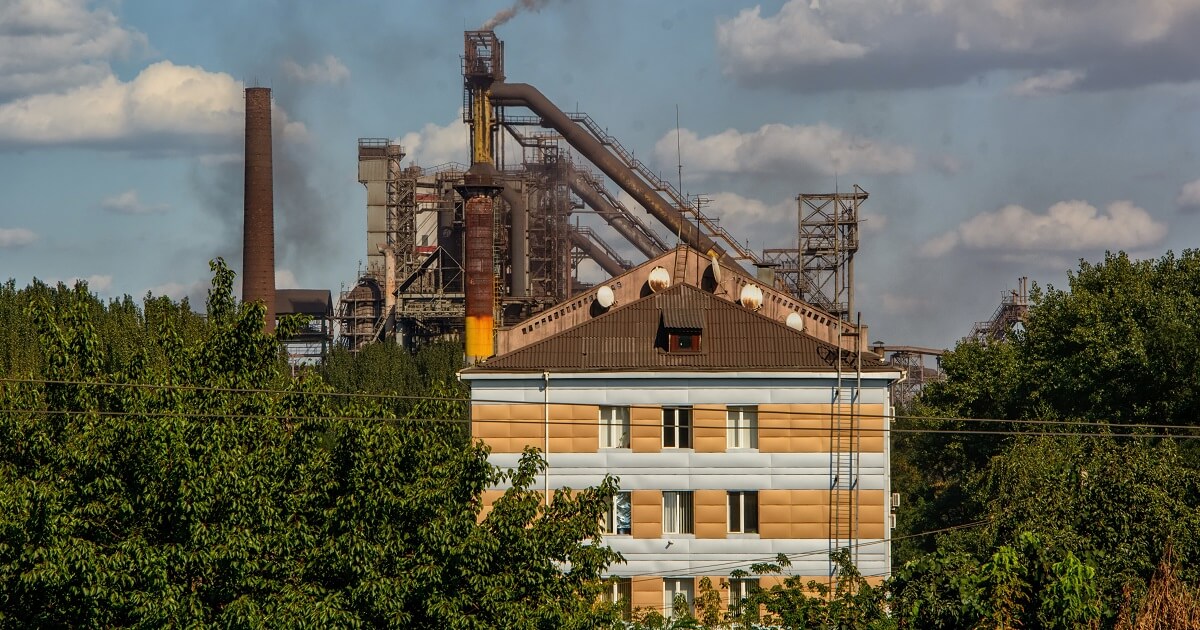 (с) shutterstock.com
Yenakieve Iron and Steel Works
Yenakieve Iron and Steel Works (EMZ) is an integrated steelmaking company. EMZ was part of Metinvest Holding. Control over the company has been lost since March 2017. EMZ produces square billets, rebar, wire rods and long products. EMZ operates in close cooperation with Makiyivka Metals Plant (MMP), which is a branch of EMZ that manufactures rolled products from EMZ billets. Earlier, the main foreign customer of square billets was Promet Steel, a Bulgarian plant of Metinvest Holding.
Yenakiyevo (EMZ), Makiyivka (MMP), Donetsk oblast, Ukraine
Russia, possible reexport to other countries Key markets until 2017 — Bulgaria, Turkey, Italy
Square billets, rebar and wire
Production capacity
3 blast furnaces, 3,000 thousand tons
3 BOFs, 3,300 thousand tons
3 ladle furnaces, 2 CCMs

EMZ:
Long products mills 550 and 360
Rebar mill 280
Wire mill 250
MMP:
Medium section mill 390
Wire mill 150

Staff and wages
UAH 103,000 per annum (2016)
300 tons of steel per annum (2016)
* per worker before taxes
Charts and tables
Production results, thousand tons
Indicative sales structure by products in 2020
Indicative sales structure by countries in 2020
* structure of sales volumes, metric tons
Financial performance, $ million
| | 2013 | 2014 | 2015 | 2016 | 2017 |
| --- | --- | --- | --- | --- | --- |
| Sales | 1526.0 | 914.0 | 624.3 | 636.5 | 123.6 |
| EBITDA | -7.0 | 5.9 | -22.1 | 40.9 | -84.6 |
| EBITDA margin | -0.5% | 0.6% | -3.5% | 6.4% | -68.5% |
| Net income | -62.0 | -32.8 | -25.0 | 14.1 | -273.0 |
| Net income margin | -4.1% | -3.6% | -4.0% | 2.2% | -220.9% |
| CAPEX | 55.6 | 61.5 | 10.9 | 21.7 | 2.6 |
Key facts
2021
According to media reports, as of May 19, the plant has not been operating for 2 months and is preparing for bankruptcy. Vneshtorgservice does not pay for the supply of raw materials from the Russian Federation, the workers do not receive wages.
2020
According to media reports, Vneshtorgservice in the summer began the process of transporting an electric arc furnace from the Donetsk Metallurgical Plant to the Yenakievsky Iron and Steel Works.
2020
In May 2020, during the launch of a blast furnace, a fire broke out due to spontaneous release of smelting products.
EMZ completely stopped production facilities from late March to mid-May 2020. The official reason for the shutdown is reconstruction of the oxygen block, the blast furnace No. 3, the basic oxygen furnace No. 1, and the continuous casting machine No. 1. Since mid-May, only one blast furnace No. 5 and one of two BOFs were put into operation.
2019
According to the media, EMZ-produced square billets were supplied to Bulgaria in 2019.
The local media reported about delays in the payment of wages in the fall of 2019. As of February 2020, wage arrears were not repaid. Strikes are under way.
In October 2019, an emergency occurred at EMZ — a 45-minute outage following an accident on the high-voltage line delivering power to the plant. As a result, two out of 24 tuyers of the blast furnace No. 3 failed to function. A spillage of pig iron was however avoided. The blast furnace was halted and put into operation after repair.
In October 2019, a partial collapse of the exhaust gas flue of the basic oxygen converter No. 2 occurred at EMZ, which resulted in a suspension of the BOF.
2018
According to the media, EMZ exported billets and rebar to the Russian Federation in 2018. Specifically, the largest buyer of EMZ billets is Reviakino Metals Plant. EMZ products can be reexported from Russia. In particular, some media outlets offered quotations for EMZ products shipped to Turkey.
In April 2018
A fire broke out at EMZ in the main building of the BOF shop. Equipment and control panels were destroyed. According to the media, the ladle with steel and one of the two CCMs have been burnt down. The plant was completely shut down, but in May 2018 it was back into production.
2017
According to the media, EMZ resumed production — the first blast furnace started to operate in April 2017, and the second one in August 2017. Since then, the plant has been operating as a branch of Vneshtorgservis CJSC. According to the media, iron ore is shipped as humanitarian aid through Rosrezerv, the Russian state agency. Finished products are sold through Russia's Gaz-Alliance, an intermediary between Vneshtorgservis CJSC and final consumers.
In March 2017
Metinvest Holding said it had lost control over EMZ. The plant was completely shut down.
In 2013
Metinvest Holding announced its plans to invest $1 billion in the reconstruction of EMZ, in particular it intended to build a new sintering plant and a CCM.
Sources: websites of the companies, media outlets