The level of capital investment is an indicator of investment climate for both entire economies and specific industries. In 2019, capital investment in Ukraine increased by 15.5% to ₴584.4 billion. Its growth was 16.4% in 2018, and 22.1% in 2017.
The mining & metals sector is among the most capital-intensive industries. The share of mining & metals companies in the total capital investment in the country in 2018–2019 was 8.1% and 8.5% respectively, in industry 19% and 21.3%.
GMK Center figured out how much and where steel producers invested in 2019, and how the pandemic and unfolding global recession affected their development plans in 2020.
Volatile investment
Over the past 10 years, the capital investment level of the mining & metals sector was not that stable. The capital investment dynamics fully reflected the situation in Ukraine's economy. Capital investment of the mining & metals sector plummeted in 2014–2015, stabilized in 2016, and started growing since 2017.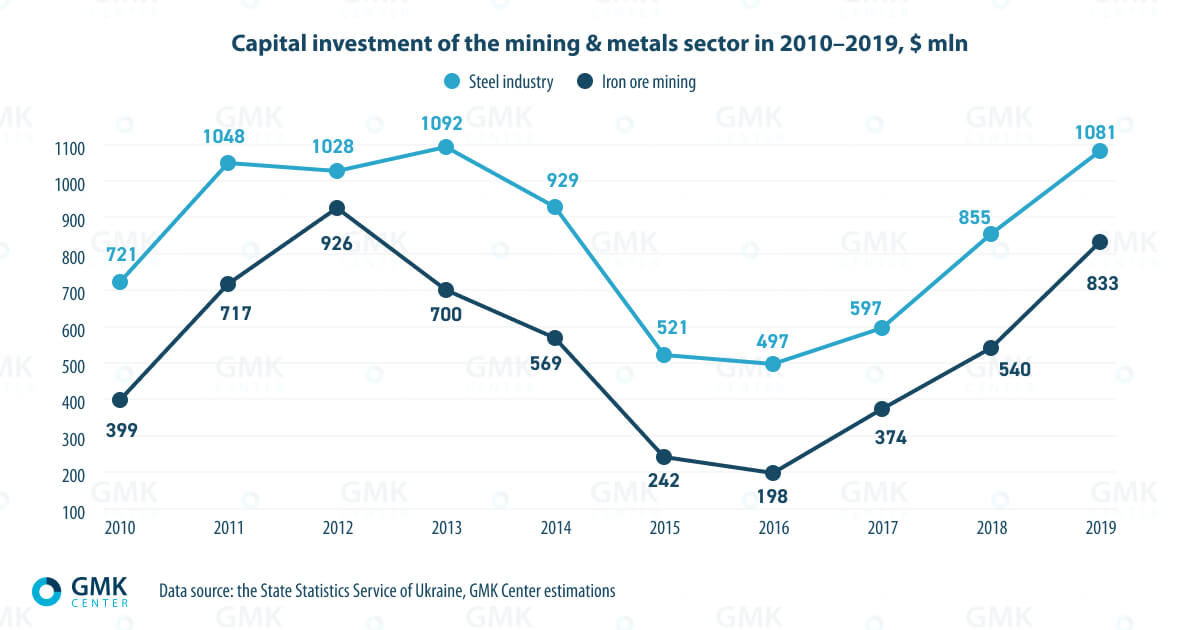 During 2010–2019, the maximum level of capital investment in the mining & metals sector was recorded in 2012, $1.953 billion. In 2019, capital investment in the industry increased by 37.3% to $1.914 billion against 2018.The lowest level over the decade was in 2015, $762.2 million. In other words, annual investment of $1.5–2 billion can be deemed as an acceptable level with the following shares of the industry segments: 60–70% of capital investments in the steel industry, 30–40% in iron ore mining. In 2019, for instance, Metinvest's share in capital investment in the steelmaking segment accounted for 49%, and 48% in the mining segment. In 2018, these indicators were 57% and 41% respectively.
"In 2019, capital investment in Ukrainian steelmaking companies per ton of steel were record high since 2007 and amounted to around $50. Domestic companies took advantage of the good market situation in 2018 and in H1 2019 and launched large projects. This is normal, because we need to close the gap between us and the rest of the world. According to our estimations, in 2014–2018 alone, we have accumulated a lag in investments of $3 billion, if we compare the investment level in our country with a world average. $50 per ton of steel is a record high figure for us, but this is a normal, average world level," explains Andrii Tarasenko, GMK Center Chief Analyst.
The total capital investment of the four largest mining companies amounted to $942.1 million in 2017, $1.425 billion in 2018, and $1.66 billion in 2019. In this period, the annual growth was 51.4% and 16.5% respectively.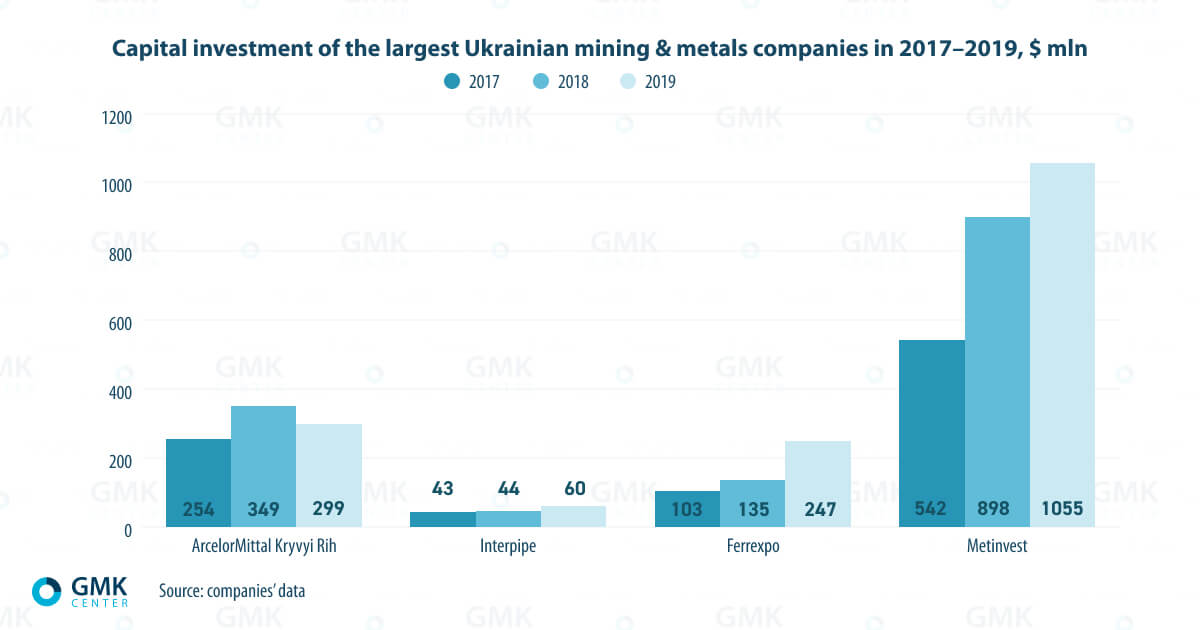 "Most investment was made in the so-called supporting projects. Domestic producers spend on average 70% of their investment programs for these purposes. This means the annual amount of investment in the sector should not be less than $500–600 million just to maintain facilities operating. If we see these figures, this means the industry has no opportunity to develop. A favorable market situation in 2017–2018 allowed companies to roar back a little. Companies invested in energy efficiency, environmental measures, introduced new products and the like. Now they will have to slow down, because the times of crisis have come," says Andrii Tarasenko.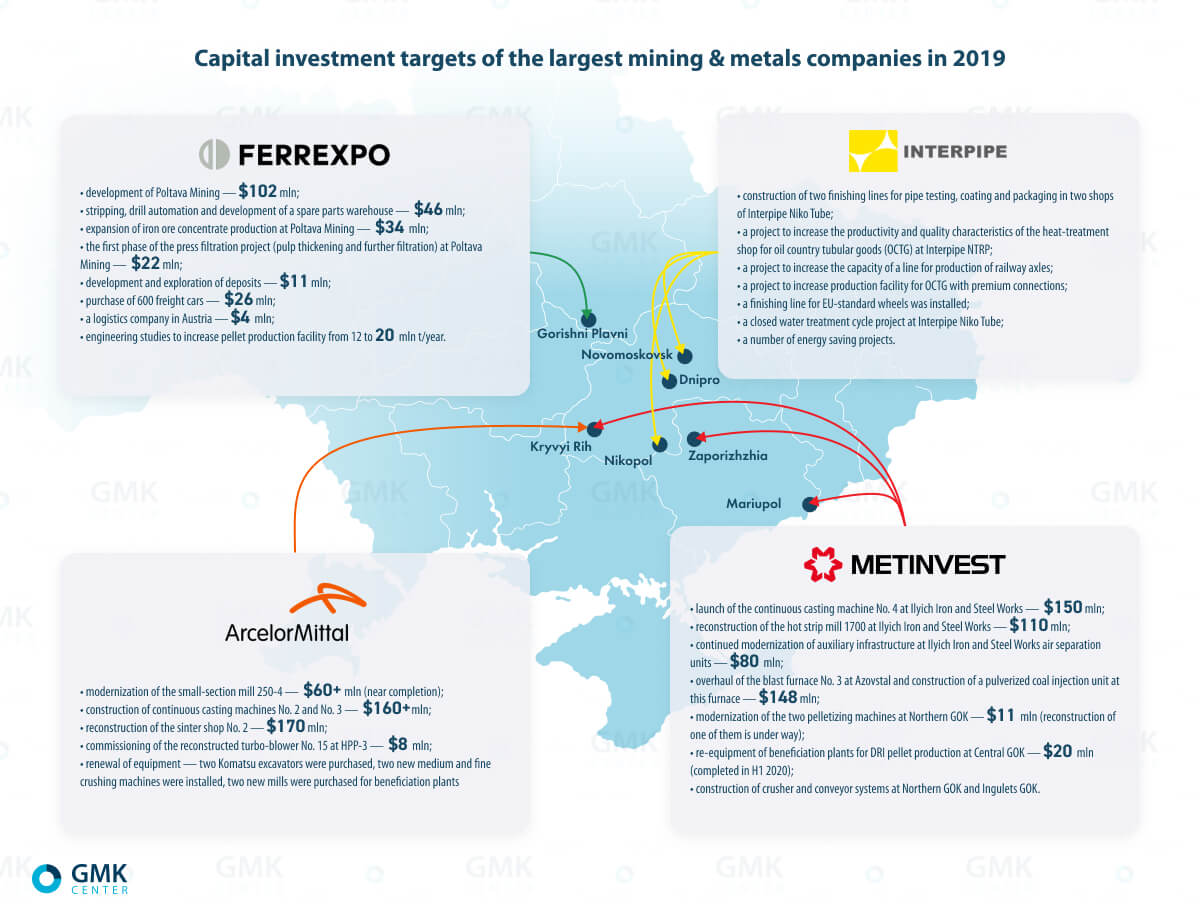 Environmental investment
Given the importance and social significance of this issue, mining & metals companies can make investment for environmental purposes. As a rule, these are projects relating to modernization, reconstruction and repair with a significant environmental component. Their amount in the total capital investments is unknown, but there are data on some companies.
Metinvest's environmental capital investments in 2019 amounted to $155 million, 66% up from the previous year. Last year, Metinvest's environmental capital investment was centered on:
reconstruction of the sinter plant at Ilyich Iron and Steel Works;
some projects are under way, including at Ilyich Iron and Steel Works: construction of a new aspiration system at the blast furnace No. 3, replacement of the gas-cleaning system at the basic oxygen furnace No. 3 and repair of the sewerage system;
reconstruction of the gas-cleaning system of the pig iron desulphurization unit, continued overhaul of the coke oven battery No. 1 at Azovstal;
extended overhaul of coke chambers at Avdiyivka Coke Plant and Zaporizhzhia Coke Plant;
replacement of gas-cleaning equipment at the pelletizing machine at Northern GOK;
reconstruction of tailings facilities, recycling water supply system, as well as current repairs of the tailings pipeline at Central GOK.
In 2012–2018, environmental projects and environmental operating expenses of Metinvest have exceeded $1.5 billion.
In turn, ArcelorMittal Kryvyi Rih in 2019 reduced its total environmental costs by 6.2% to ₴562.9 million against 2018. In 2019, the company invested in the following environmental projects:
reconstruction of the rotary furnace No. 3 of the lime and refractory shop;
repair of draft equipment and construction of two-stage gas-cleaning units (GCSs) as part of the reconstruction of the sinter shop No. 2;
introduction of an automatic system of sintering zones environmental monitoring at GCSs;
start of environmental modernization of the fourth sinter machine;
reconstruction of Obyednane and Myroliubivske tailing dams, construction of the first phase of the Central tailing dam and their recycling water supply.
In 2006–2019, AMKR invested a total of ₴6.8 billion in environmental modernization. Over this time, the company has reconstructed and built more than 120 highly efficient gas-cleaning units, cut air emissions by 42.7% and wastewater discharge by 78.4%.
Investment plans put on hold
One of the most important anti-crisis measures in any industry is a partial or complete suspension of investment. This allows maintaining financial stability of businesses for their uninterrupted operation. Ukraine's mining & metals sector is no exception in this sense.
Mining & metals companies started to change their investment plans prior to the outbreak of the coronavirus crisis, in the fall of 2019, when prices for metal products significantly fell followed by a drop in production. Specifically, Metinvest had to reduce the implementation of the 2019 investment program. The implementation of some projects was suspended, except for critical ones and projects with significant environmental effects.
Now mining & metals companies postpone some projects as well. Yet, they continue to carry out urgent ones, those at their final phase, or environmental projects.
"We have to revise our current operating plans, and there may be delays in short-term investment plans due to the current situation. Yet, we do not intend to change our long-term development strategy for the next five years. All initiatives for the implementation of environmental projects will not be put on hold," said Mauro Longobardo, CEO of ArcelorMittal Kryvyi Rih.
In turn, Interpipe postponed, until the situation with the pandemic is settled, the construction of a hydraulic press in the shop No. 4 at Interpipe NTRP and the heat-treatment shop at Interpipe Niko Tube.
Implementation of projects in 2020
Although some projects were postponed, capital investment plans for the current year are quite impressive. For instance, AMKR names the following investment areas this year:
construction of a new pelletizing plant to produce 4.5–5 million tons of pellets per annum;
replacement of gas-cleaning units of the first block of the BOF shop (BOFs No. 1–3);
reconstruction of the blast furnace No. 9;
construction of a new oxygen block;
modernization of the sinter shop No. 2;
construction of a continuous steel casting shop (two new continuous casting machines).
Interpipe leaves standing its plans for projects to modernize the heating system in all shops at Interpipe Niko Tube (completion — Q3 2020) and to increase capacity for assembling wheel pairs at Interpipe NTRP (completion — Q4 2021).
"Our top priority is to expand our beneficiation plant to process more iron ore concentrate and increase pellet production, and we are still on a path to increase annual pellet production by 14% to 12 million tons until 2021. There are two main projects for this goal: to increase beneficiation facilities for annual processing of 6 million tons of crushed iron ore into concentrate, the project is more than 85% completed; and to build an iron ore concentrate warehouse, which will allow us to separate operations of our beneficiation plant and pellet shops, the project is more than 60% completed," a representative of Ferrexpo's press service told GMK Center.
This year, Metinvest launched a pulverized coal injection unit at the blast furnace No. 3 at Azovstal. The company is also building a new gas-cleaning unit worth ₴110 million for the mixer department of the BOF shop. Moreover, Metinvest has started construction of an oxygen complex worth $78 million and a new aspiration system for the mixer department worth ₴168 million at Ilyich Iron and Steel Works. In addition, the company continues to modernize its sinter plant at Ilyich Iron and Steel Works and has tapped a credit facility to finance the purchase and installation of a hydraulic down coiler for hot strip mill 1700.
This year's capital investment
It is difficult to estimate this year's drop in capital investment of mining & metals companies. The situation in the industry and in the world in a short-term perspective will only get more complicated, with a large extent of uncertainty remaining. The steel sector is just entering a decline in production; plans are constantly changing. What seems to be temporarily postponed today may be removed from agenda tomorrow until 'better days'.
At the same time, as of March, Interpipe retained its plans to invest $136 million in production in 2020–2022. In turn, AMKR maintains plans to invest some $1.5 billion over the next five years, including $700 million in modernization of equipment for environmental purposes until 2023.
However, based on companies' estimations, a drop may be significant. According to analyst at Concorde Capital investment company, Dmytro Khoroshun, in a telephone conversation with investors on 4 March, Metinvest shared its plans to reduce capital investment in 2020 by 38% to $650 million against 2019. It is important to take into account that after the disclosure of these plans, back in late March and in April, steel prices (FOB Ukraine) fell by 15–25% and profitability prospects deteriorated.
In a telephone conversation on 23 April, Interpipe mentioned that the company originally planned a capital investment of $82 million in 2020, 37% up from the past year. Yet at the same time, the management stated its intention to abandon all planned development projects and is going to invest only in maintaining facilities ($32 million per annum) and in already launched projects. I guess the situation in the pipe market will remain disastrous after the collapse of oil prices, as railway wheels will also fall in price compared to the record year 2019, and Interpipe's investment in 2020 will amount to around $40 million. This is 33% down from 2019," Dmytro Khoroshun said.
According to Ferrexpo, in 2020 the company plans CAPEX at the level of about $150 million, but the amount will depend on market conditions.
"In a telephone conversation with investors on 18 March, Ferrexpo revealed plans to reduce capital investment to $150 million in 2020, 39% down from 2019. At the same time, the management mentioned that it can cut capital investment to $120 million, 51% down from 2019, if necessary," Dmytro Khoroshun added.
In general, it is possible to conclude from the plans of the industry leaders that a fall in capital investment in 2020 may be at least 40%. For instance, large Russian producers (Severstal, Novolipetsk and Magnitogorsk metallurgical plants) have already announced a 15–25% reduction in their investment programs for 2020. And under a stressful scenario, the fall dynamics may be worse.
"Under the worst coronavirus scenario (no end of the pandemic this year, no strong economic recovery), or if, for some reason, a bad situation occurs in the markets (a fall in iron ore prices to $70 per ton or lower, and no recovery of steel prices to their level in late April), a greater decline of 50–60% in capital investment may be expected," Dmytro Khoroshun summarized.
Like many companies from other sectors of the economy, Ukrainian steelmakers have taken action to prevent the spread of coronavirus at their plants. They conduct outreach activities, inform employees about all measures needed to prevent the disease and work towards minimizing the negative effects of quarantine in the country.
Their efforts are targeted at maintaining production. These include actions to organize, together with local authorities, the delivery of personnel to and from work amid the partial closure of public transport and restrictions on the number of passengers. According to ArcelorMittal Kryvyi Rih PJSC, Kryvyi Rih authorities "took into account the interests of the Company and announced readiness to bring additional trolley buses and busses to the route." Ferrexpo's measure claims attention. Bicycle traffic is allowed for the personnel of Poltava Mining.
The Company's list of coronavirus preventive measures is fairly standard. Although it will differ for production and office personnel for obvious reasons.
Production personnel
The following key measures are taken at production sites to reduce the risks of infection:
disinfection of working vehicles and areas; increased frequency of cleaning; working areas are provided with disinfectants;
employees are provided with gloves and masks;
mandatory medical examinations at the Company's medical center (AMKR) and mandatory entrance breathalyzer checks (Interpipe) are suspended;
control of the health of employees is enhanced, e.g. the use of non-contact thermometers at Interpipe;
health checks for representatives of counterparties, e.g. drivers of other companies' vehicles.
"We should not wait for coronavirus cases in the Company or in cities of our presence. Today, we must be proactive and take precautionary measures. We developed an action plan for the period of the epidemic. Work is continuing on site as normal, subject to enhanced precautions," said Fadi Hraibi, Interpipe CEO.
All employees of Poltava Mining, after return from foreign trips and/or after return from foreign trips of their relatives living together with them as well as after return from trips to Ukraine's oblasts where confirmed cases of coronavirus are reported, are recommended to stay home for 14 days even if they have no symptoms of the virus. At the close of the self-isolation period, employees will be paid for it.
Office personnel
Preventive measures for office personnel:
work-from-home policy for some employees;
cancellation of business trips;
online format of conferences and meetings;
cancellation of crowded events and actions.
"Our strategy in combating the virus is to reduce the number of contacts where possible, join efforts to eliminate the risk of infection of our employees, do our best so that the territory of Metinvest would not become a hotbed of coronavirus spread," Metinvest CEO Yuriy Ryzhenkov said in his message to employees.
Strategic initiatives
SCM proposed an initiative of a larger scale — to set up a 'brain center' for Ukraine's revival, economic health headquarters, to find tools for retaining the economic health of the country with joint efforts of authorities and businesses in the current difficult conditions. The proposal was announced on 17 March.
A day before, on 16 March, President Volodymyr Zelenskyi had a meeting with owners and top managers of largest Ukrainian companies and business groups to discuss contributions of large businesses to countering the spread of the coronavirus. The meeting was attended by businessmen Rinat Akhmetov, Ihor Kolomoiskyi, Serhiy Tihipko, Oleksandr Yaroslavskyi, Yuriy Kosiuk, Leonid Klimov and Andriy Stavnitser.
"We agreed to create a fund to give resources to the country for providing hospitals with necessary means. Except for money, we will help with people, resources, logistics, expertise," Andriy Stavnitser, shareholder and founder of TIS and MV Cargo, wrote  in a commentary.
Context
As reported earlier, on 17 March, the Ukrainian Parliament passed a package of draft laws aimed at helping various branches of power combat the consequences of the spread of the coronavirus disease and rendering support to business in the current conditions.
Specifically, anti-coronavirus measures for business include:
opportunity to work from home or stay home from work;
ban on public supervision and control measures;
quarantine is counted as force majeure;
amendments to articles of the Labor Code on the terms of paid leave.
In 2019, the Ukrainian mining & metals sector fully felt all the problems associated with the negative impacts of growing protectionism around the globe and the instability of the global environment. Though the trouble came from where nobody had expected, as the revaluation of the national currency in the beginning of the year was little predicted.
Based on preliminary estimates by Ukrmetallurgprom, production of main types of products will decrease at 2019 year-end:
steel — down to 20.5 million tons (-2.8% against 2018);
pig iron — down to 20 million tons (-2.7%);
rolled products — down to 18 million tons (-2%).
"This is the worst performance of all years of Ukraine's independence. For comparison, 21.3 million tons and 21.1 million tons of steel were produced in 2017 and in 2018 respectively," say Ukrmetallurgprom analysts.
The above figures are almost identical to the industrial production data of the State Statistics Service. Hence, over 11 months, production of steel and finished metal products fell by 2.5% (by 8.3% in November). Conversely, in iron ore mining, a 0.9% increase was recorded in January–November, but a 5.6% decrease in the last month of this period.
Production projections were adjusted downward throughout 2019. Specifically, in May, according to the production results of January–April 2019, Ukraine's Ministry of Economic Development expected a 7% growth in steel production at the year-end, up to 22.64 million tons. In August, the forecast based on the January–July results became more pessimistic, with steel production growth projected at only 4%, up to 21.9 million tons.
The losses of 2019
According to GMK Center's estimates, in 2019, the mining & metals sector of Ukraine lost profits worth $2.8 billion due to negative internal and external factors. Over 11 months of 2019, revenue from exports of ferrous metals alone dropped by 10.5% to $8.2 billion. As reported earlier, in January–November 2018, the dynamics of this indicator was the opposite, a 16.9% increase.
In general, according to the calculations of GMK Center analysts, the list of the 10 key negative factors for the Ukrainian mining & metals sector in 2019 is as follows.
TOP 10 challenges of 2019 for the mining & metals sector of Ukraine
| No. | Factor | Impact |
| --- | --- | --- |
| 1 | Drop in steel consumption in Ukraine's key markets, decrease in prices | ≈ -$1,800 million |
| 2 | Revaluation of the hryvnia | ≈ -$400 million |
| 3 | Imbalance between scrap and iron ore prices in the global market | ≈ -$300 million |
| 4. |   Protectionism in foreign markets | ≈ -$100 million |
| 5. | Considerable increase in rail freight tariffs; | ≈ -$100 million |
| 6. | Political instability and its negative impact on the domestic market | ≈ -$70 million |
| 7.     | Restrictions on shipments of coke and coking coal from Russia to Ukraine | ≈ -$25 million |
| 8.     | Launch of the electricity market in Ukraine | ≈ -$15 million |
| 9.     | Increase in environmental tax rates | ≈ -$15 million |
| 10. | The "Kerch crisis" | ≈ -$10 million |
Source: GMK Center
The situation in the global market
Analysts of Ukrainian investment companies, interviewed by GMK Center, highlighted the main problems of the global mining & metals sector in 2019, which, in their opinion, influenced Ukraine to a certain extent.
In 2019, there was a sharp deterioration in the situation in Ukraine's key markets of metal products: the European Union, Turkey, the Middle East, and North Africa. The drop in demand was: in the EU — minus 3%, in MENA countries — minus 7%, in Turkey — minus 20%.
As the mining & metals sector of Ukraine is export-oriented, the main negative impact factors were external developments — a drop in consumption in our key markets (the European Union, Turkey and others), a decrease in prices for metal products, an imbalance between scrap and iron ore prices in the global market and protectionism in foreign markets. According to GMK Center's estimates, they cost a total of $ 2.2 billion.
"The fall in steel consumption and prices in Ukraine's key markets inflicted losses worth around $1.8 billion. It is understandable. The sector is cyclical and market recessions occur every 5–7 years. Companies are ready for this. Though, when market recessions coincide with an increase in tax pressure, a rise in tariffs for services of natural monopolies and so on, the domestic industry suffers much more than our main competitors," said Andrii Tarasenko, GMK Center Chief Analyst.
Internal factors
According to GMK Center's estimates, the revaluation of the hryvnia ranked second in terms of its impact on the mining & metals sector of Ukraine in 2019. Since the beginning of the year, the national currency rate has strengthened against the dollar by 16%, up to ₴23.3/$1.  This made the hryvnia a world leader in terms of growth rates. It has to be noted that early in 2019, no one expected such strengthening of the national currency, because there were (and there are) no fundamental macroeconomic preconditions for this. Yet, back in mid-2019 when the extent of what was happening was known, analysts said that the price for the hryvnia's revaluation will be high for the mining & metals sector of Ukraine.
The consequences of the revaluation are not limited only to an increase in spending of mining & metals companies denominated in U.S. dollars (worth $390 million). This is without regard to a decrease in sales and production that we lost due to an increase in the cost of our products.
"Of special importance is the fact that all this happens amid a smooth depreciation in national currencies of our main competitors against the dollar. If Ukraine loses markets, others will definitely use its problems for their own benefit," Andrii Tarasenko added.
Other internal factors of impact on the country's mining & metals sector in 2019 may include the political instability and its negative influence on the domestic market, the launch of the electricity market in Ukraine, an increase in environmental tax rates, and a hike in freight rail tariffs. The 'value at stake' totals $200 million. And taking into account the revaluation factor, a total of internal factors cost the mining & metals sector $600 million in 2019.
"To understand the extent of the impacts of internal factors, it is enough to take a look at the problem of protectionism. The amount that Ukraine lost this year because of this problem is $100 million. This amount is the same as that lost due to a rise in railway freight rates. In other words, only one of the internal factors has the same extent of impact as the global problem. For the sake of justice, I would like to note that losses from protective measures will have more serious implications next year, estimated at least at $350 million," Andrii Tarasenko explained.
Analysts of Ukrainian investment companies, interviewed by GMK Center, highlighted the main events and problems of the mining & metals sector of Ukraine in 2019. Among the significant events of 2019, Dmitry Churin, Head of Research at Eavex Capital, listed the suspension of main production capacities at Dnipro Metallurgical Plant (DCH) and Dniprovskyi Iron and Steel Works (formally owned by ISD Corporation). This was a desperate measure of optimization in a weak market, which affected the overall production results of mining & metals companies at year-end.
In turn, Denys Sakva, Senior Analyst at Dragon Capital investment company, paid special attention to a slowdown in shipments of coking coal from Russia and the putting into operation of the continuous casting machine at Ilyich Iron and Steel Works of Mariupol. The former required a change in supply logistics, while the latter would be a good basis for increasing production in 2020.
Dmytro Khoroshun, analyst at Concorde Capital investment company, highlighted the important moments of 2019 in the work of mining & metals companies, which at the same time did not directly affect the production performance, but allowed them to 'take a breath' in financial terms. In particular, the expert emphasized on the successful restructuring of Interpipe's debt and Metinvest's partial refinancing of the 2023 bonds through a new Eurobond offering, including a 10-year tranche.
Corporate performance
Depending on the structure of production and sales, financial performance of the largest mining & metals companies will drastically differ in 2019. Annual information is not available so far, but the general trend could be judged by 9-month data. According to them, the iron ore production and export segment feels better than the 'pure' steel industry. Hence, success of iron ore mining companies compensated failures of steelmaking ones in terms of performance indicators.
In this context, Ukrainian mining & metals companies will face even greater challenges and problems in 2020 than in 2019. Hence, the next year's projected financial and production results are likely to disappoint steelmakers and iron ore miners.